WELCOME TO THE MOST ROMANTIC CITY IN CANADA
You may have heard that Fort McMurray was once again rated by Amazon.ca as the most romantic city in Canada; it turns out that Fort McMurrians spend heavily on "romantic gifts/items" online. 
Before gifts come dates, so there must be some serious dating going on. Where is this epic dating scene? Where are all you love-birds meeting and enjoying time together?
We polled our Facebook family and asked our 6 real estate agents for ideas, too. 
This blog is The A-Team's top 50 date ideas. There's a bonus idea at the end, too!
Because we live in an oil town, we decided to categorize the date ideas like we would our tires:
Winter Date Ideas
1. Seek Out & Watch The Magical Northern Lights
Check out this steamy article if you dare, but if you don't, here's one of the key points: Many people travel across the globe to procreate under the northern lights.
We're not advising anything too crazy, but you can certainly share some magical moments under the northern lights. We even wrote a very detailed, handy blog post if you want some hints and tips before setting out with your date partner…
2. Snowboarding at Vista Ridge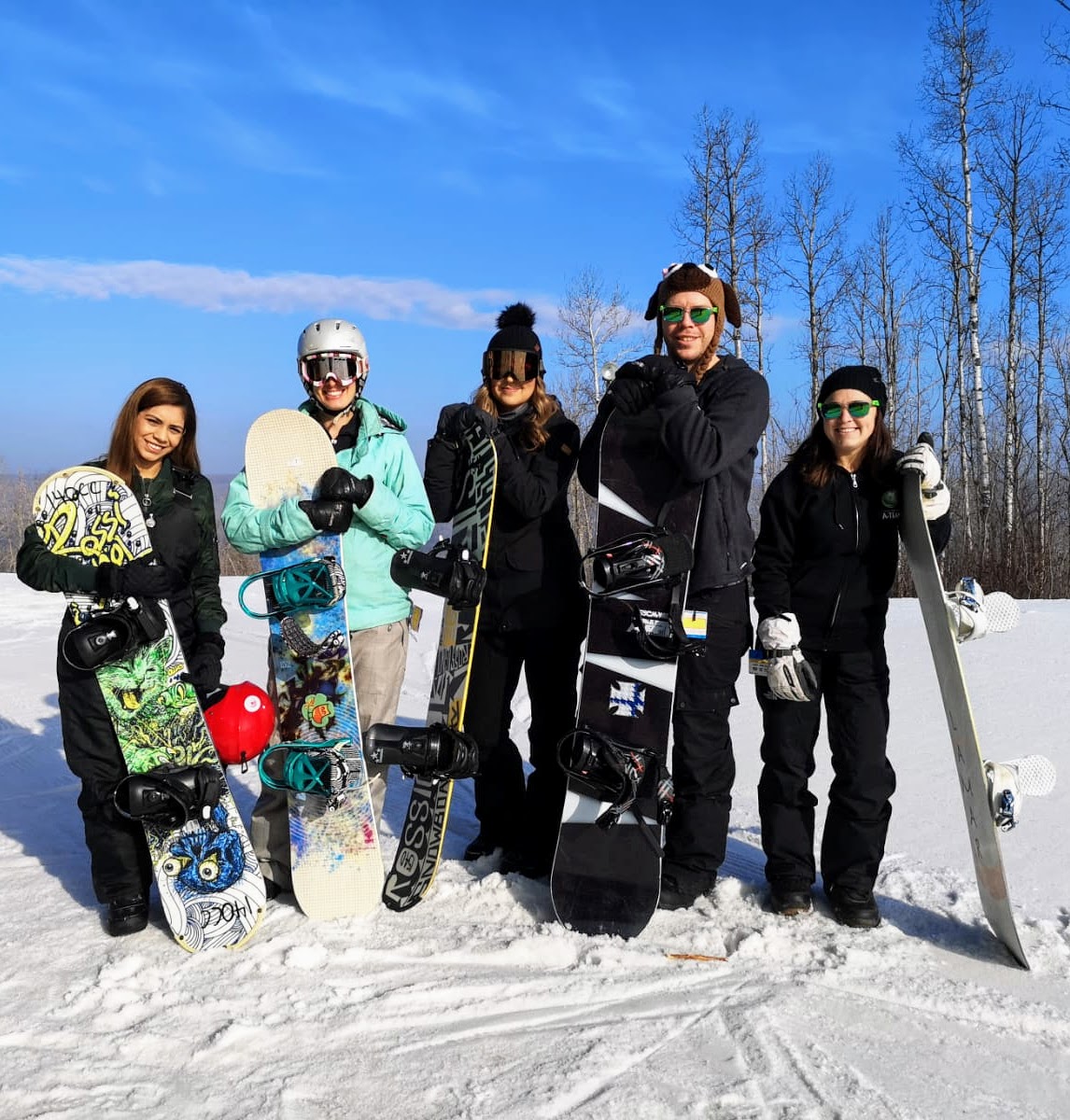 Couples who board together, stay together 
Plan an amazing date at Vista Ridge. Go snowboarding, skiing or maybe both (see the summer section of this blog for summer activities there). See
here
for more information. 
3. Take a Cross Country Skiing Lesson Together
How about a team-building exercise with your love interest? If you don't have skis yet, you can join the
Ptarmigan Nordic Ski Club for $30 a season
, and this includes free rentals, lessons the whole season long: Do we hear "Second Date" already?! 
FYI: Learn all about our incredible nordic ski trail system here. 
4. Skating at Outdoor Rinks (FREE)
Ice skating is one of our nation's passions, but it's even more romantic out in the open. Thankfully it's friggin' freezing here between November and March. We have many
outdoor locations
you can just drop in at for free, as well as indoor locations to choose from. Call MacDonald Island for indoor rink hours at 780.791.0070.
5. WinterPLAY
The RM of Wood Buffalo organizes
WinterPLAY
every year to make your winters more memorable. Put on warm clothes, and cheer each other up with all the available activities.
6. Christmas Markets 
Join your partner at one of the many Christmas markets that occur. There are a
Facebook group
and the
RMWB community events calendar
to pick from. Buyer's Agent from The A-Team, is often present giving out gifts, balloons, candy, etc. (
& free real estate advice
). 
[Dating Pro tip: Show your wannabe lover your generosity (& help the community) by prioritizing fundraiser events run by local non-profit organizations]
7. Christmas Light Displays (FREE)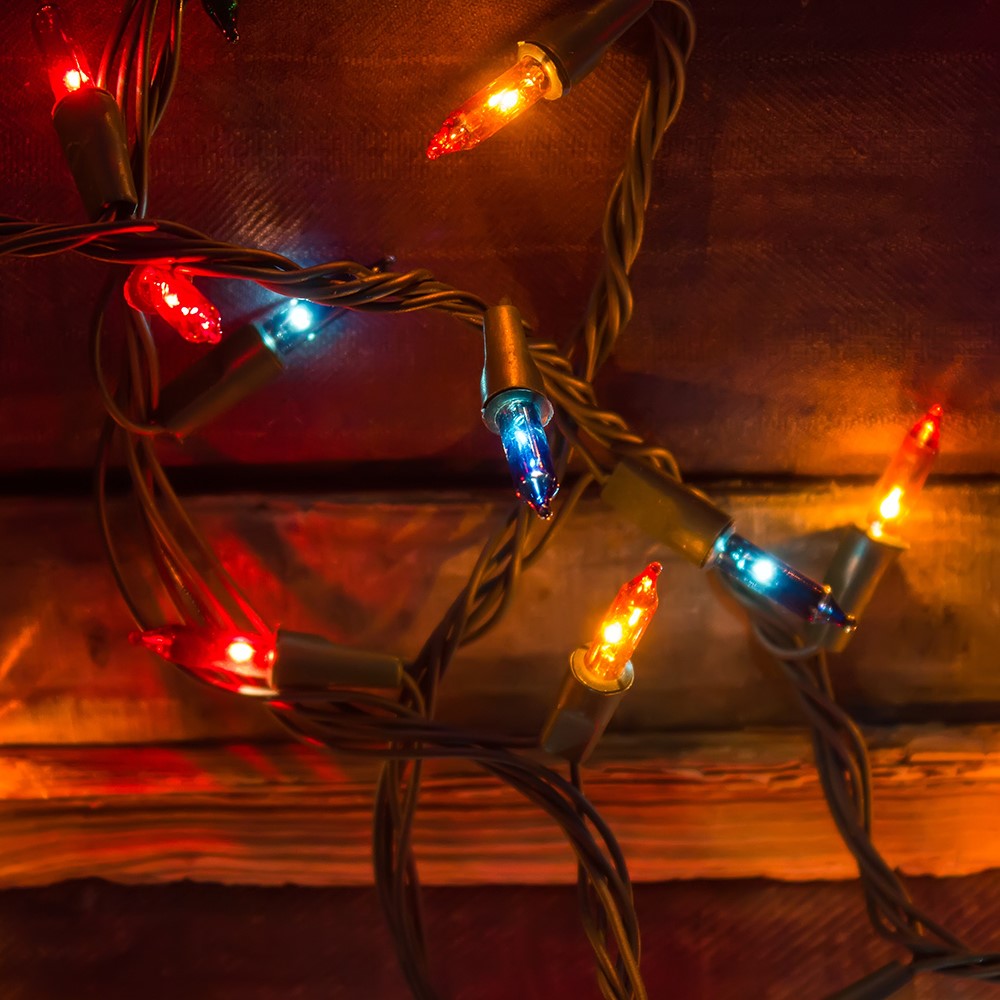 Witness brightness together in the depth of winter
Ignite your love by grabbing a warm drink and (probably best) a warm vehicle. Our favourite spots for impressive homes with light displays are the
Wood Buffalo
area of town and the light show at Grandview crescent in
Gregoire
. Pro tip: Don't miss the illuminated art at "
IgNIGHT
".
Summer Date Ideas
8. Diner En Blanc (DEB), Fort McMurray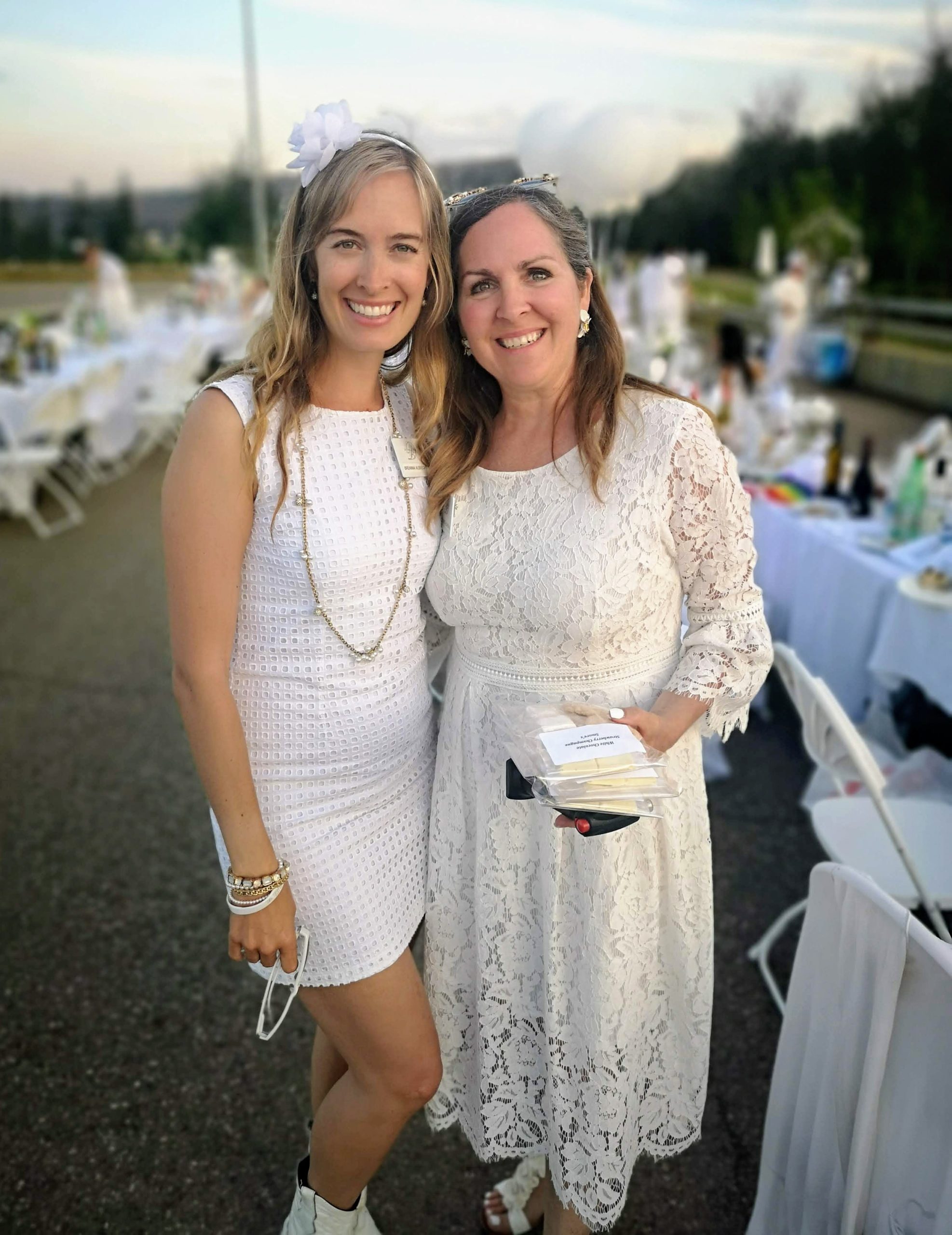 Agents Breanna Albrecht & Denise Hildebrand at DEB 2019
An awe-inspiring international event spreading love and unforgettable dining experience: Hosted by Denise Hildebrand, this prestigious annual occasion will surely win the heart of your prospective lover.
Pro tip: Tickets sell fast so be sure to get yours for next year's event ASAP.
9. Lover's Picnic in Birchwood Trails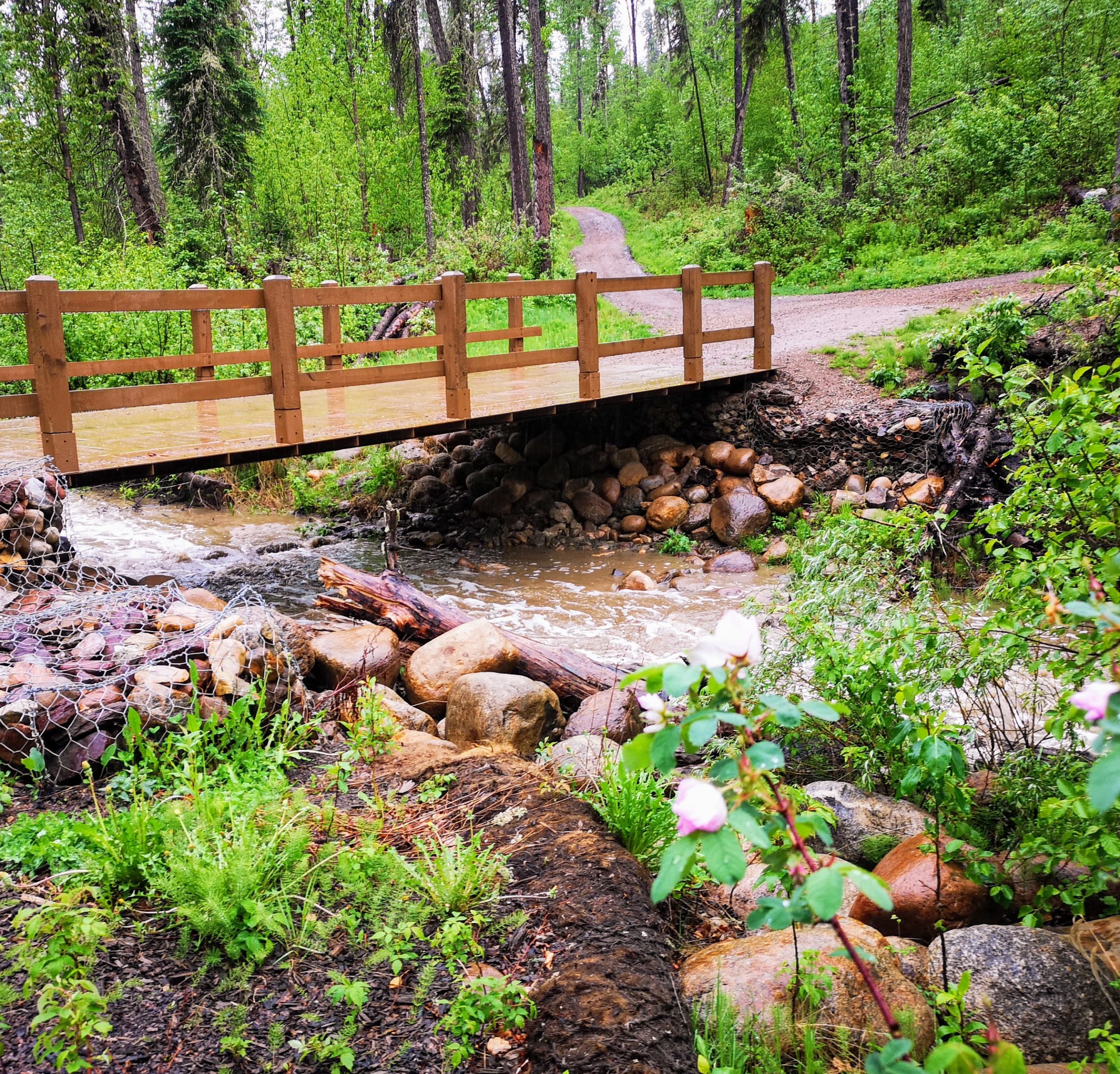 Picnic tables and beautiful footbridges
A fun activity for a warm day is to take a hike in the
woods in the heart of Fort McMurray
. This
map
will help you navigate through your starting and ending point, but basically you can access the trails from
Thickwood, Dickinsfield, Timberlea or Eagle Ridge
. 
You could also ride a bicycle, take a walk or skateboard in the trails. Be sure to take your water bottle and bear spray for safety!
10. Outdoor Green Gym (FREE)
A gym date isn't for everyone, but for those gym buffs out there, here's a chance to show your skills, while staying out in the sun: The outdoor gym is a fun spot for people who are outdoor junkies and fitness fanatics. Fun fact: Rumor has is that at one time, this
Thickwood
attraction was the largest outdoor gym in North America!
"The equipment is set up in a dozen stations running from Cornwall Road, to behind the Birchwood field, and ending at Woodland Drive." - (1)
11. Sunbathing at Gregoire Lake (FREE)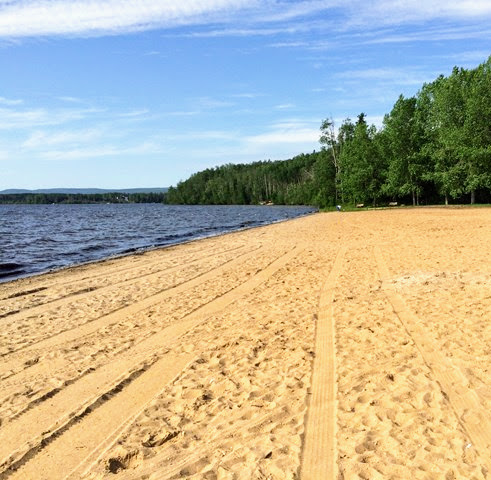 Yes, this is real
Spend a lazy day on the beach at our nearest lake:
Gregoire Lake (Provincial Park)
. There are camping facilities, but most people just go for the day. You can BBQ or picnic, and dogs are allowed (on a leash).  In the summer it can get up to 35°C, so take sunscreen and enjoy the breeze coming off the lake.
Pro tip: Towards the end of summer you can find plenty of delicious Saskatoon berries, just watch out for bears.
12. Urban Market 
Plan to make a meal from fresh produce and meal for your partner! Before mealtime, pick, why not take them through Fort McMurray's own
urban market
, where local vendors display their produce and wares.
13. Stroll through the Park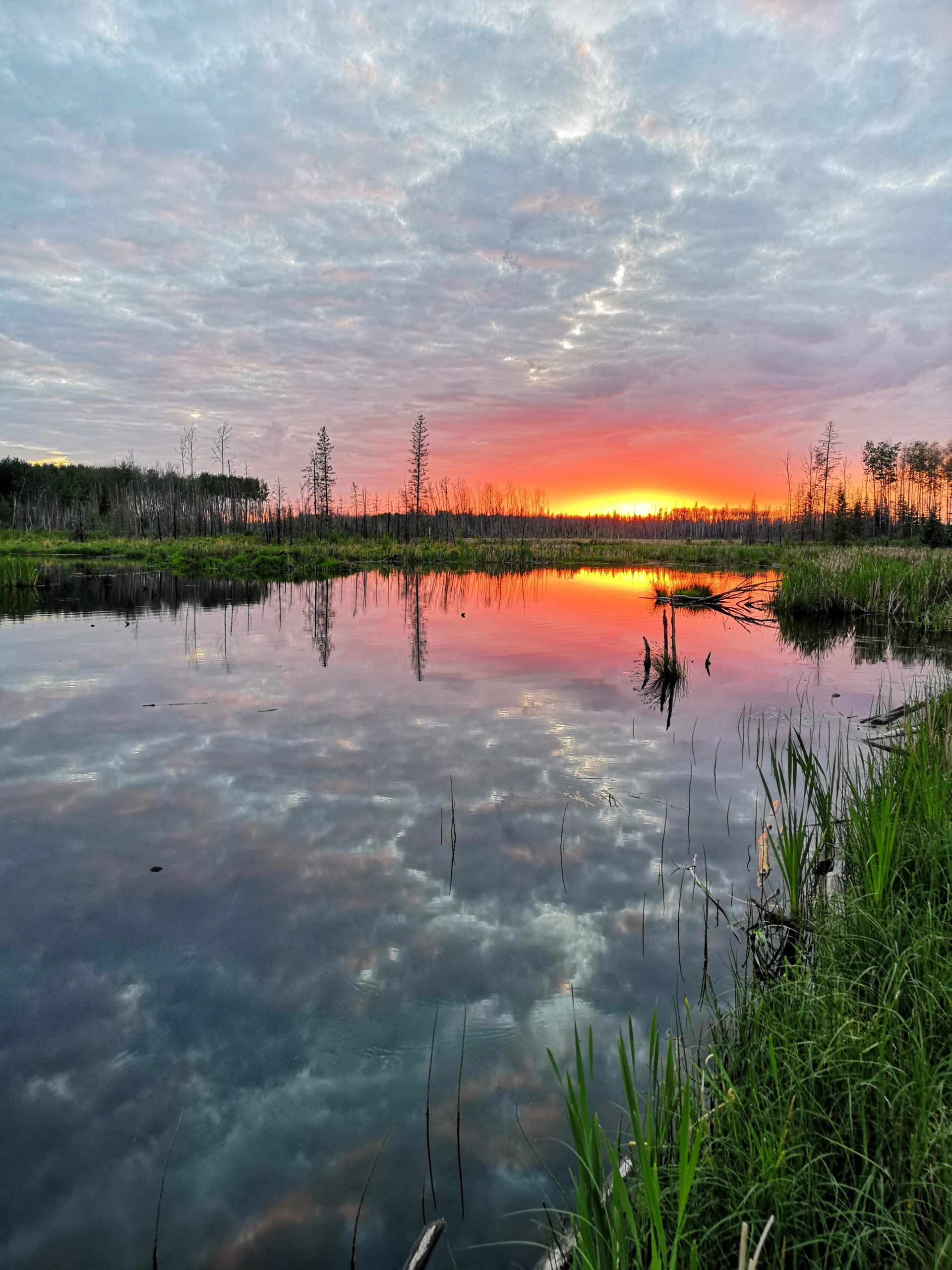 Witness nature beside your partner in one of Fort McMurray's many parks
There are dozens of parks, but here are our favorites: Howard Pew Park, Syncrude Athletic Park, Heritage Park, Snye, Wood Buffalo Park. Find official maps
here
.
14. Doggy Date at The Dog Park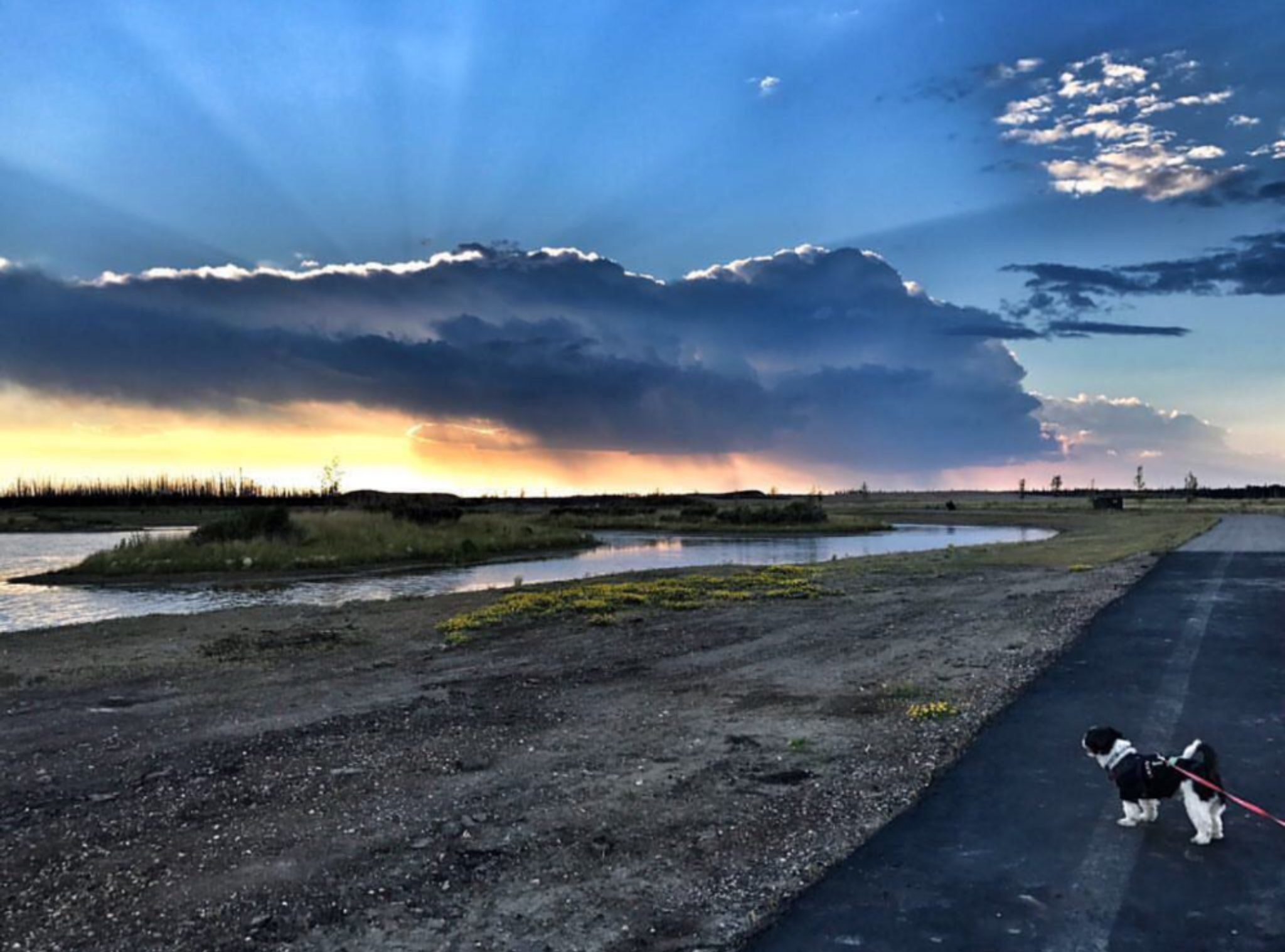 Poochy couldn't "yelp" but stare at the sunset, wondering what happened to his date
Bond with your new friend with the help of man's best friend! The city offers several
dog parks
to choose from.
15. Heritage Shipyard 
Trying to find a cool spot in summer? You can learn a thing or two here as well. Fort McMurray's history may be short, but
Heritage Shipyard
is packed with stories of wilder times gone by. Be sure to check the opening times before you pay a visit. Check out our blog series about Fort McMurray's history, called
"Beyond Franklin".
16. History at Heritage Village 
If you are looking to visit another spot with loads of history, your next stop is the
Heritage Village
. Maybe don't mention this on your first date, but you can even plan your wedding at Heritage Village or Shipyard!
17. Aerial Tour 
Love is in the air! This one's a good one for a 5th or 6th date (or proposal?) Experience a mind-blowing tour of nature filled with surprises (Athabasca Falls, Anzac, Gregoire Lake). Prices can actually be quite reasonable because there are many companies to choose from:
McMurray Aviation
,
Phoenix Heli-Flight
,
Vortex Helicopters Inc
& 
Aurora Helicopters
.
18. Golf Weekend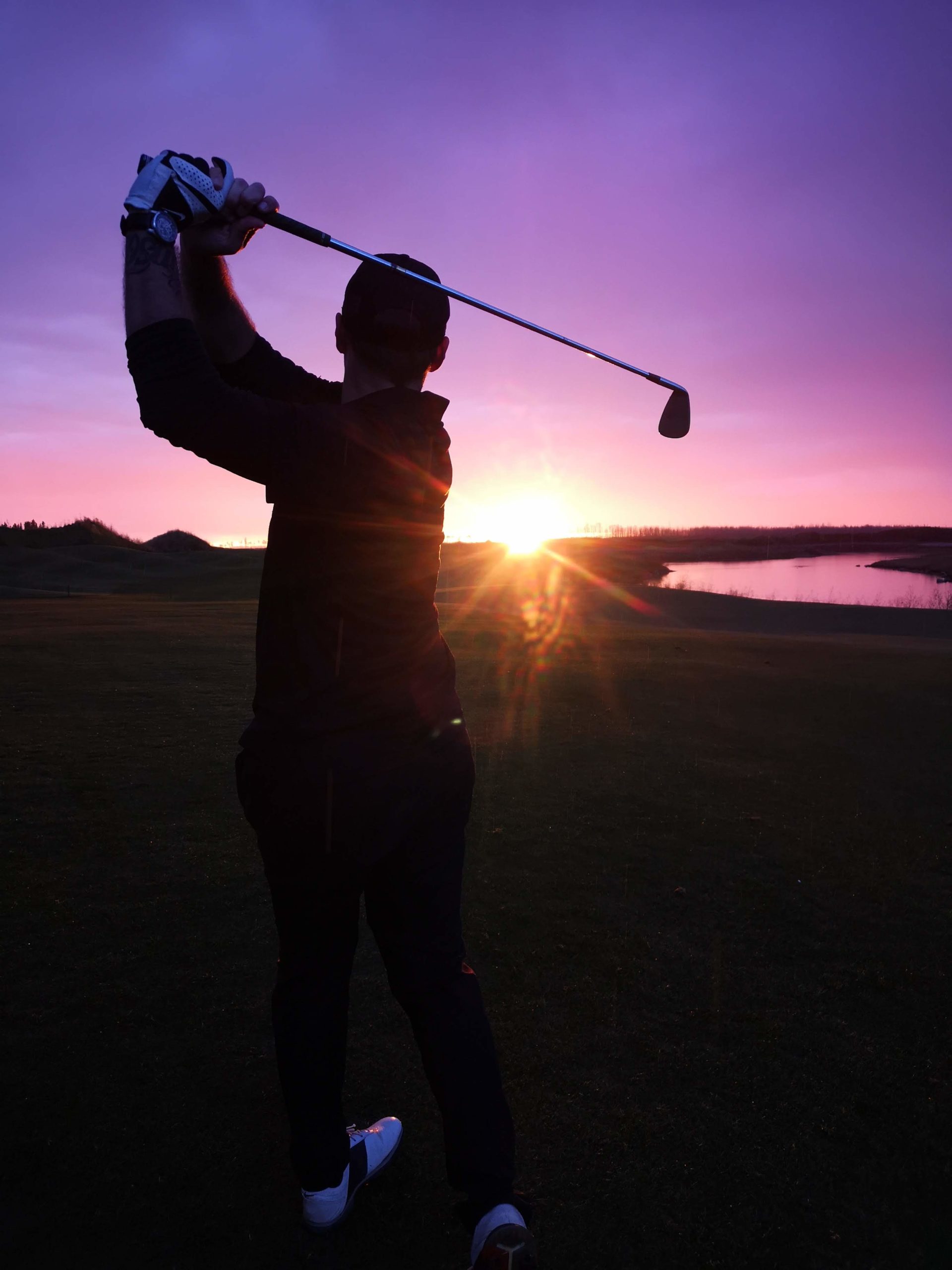 Just the two of you? Or a threesome or foursome? It's up to you. But don't be lonesome...
Wanting to swing the perfect hole in one? Visit
Fort McMurray's most prestigious golf course
to book a
tee time
! The new clubhouse and dining room are now open.
19. Aboriginal Interpretive Trail
A hidden gem in Fort McMurray: You can now take a stroll at this attraction right next to MacDonald Island Park. 
Pro tip: You can extend your walk to the bench at the confluence of two of Canada's most epic rivers: The Athabasca & Clearwater Rivers.
20. Vista Ridge Aerial Adventure Park
Are you an outdoorsy person with a head for heights? Take your partner to
Vista Ridge Aerial Adventure
Park to show off your adventurous side. 
21. Fly fishing at Horse Creek in Abasand
Some insider knowledge info from Aaron Chalmers: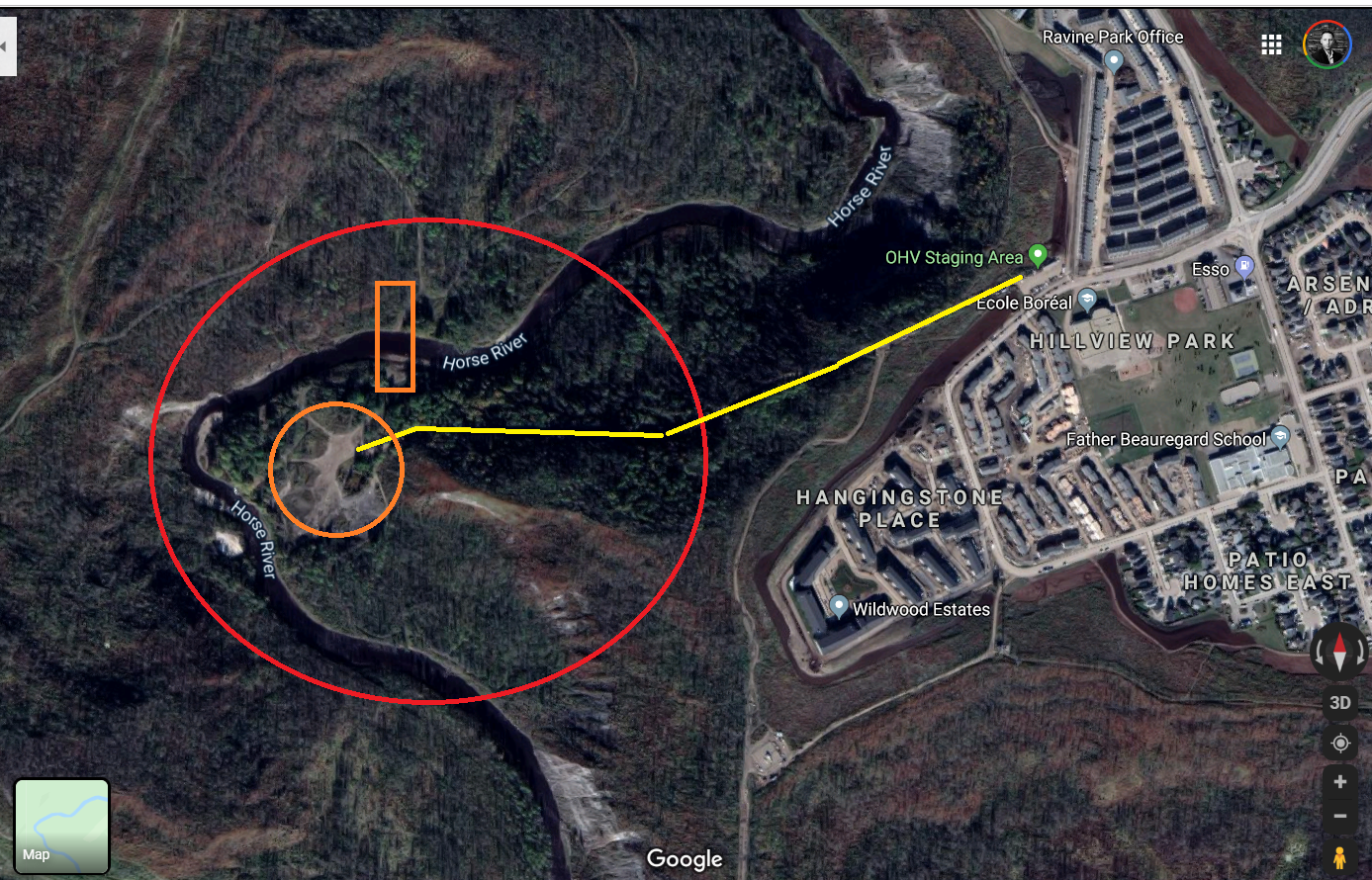 Aaron's map explaining how to get to the best fishing spots
 "Hi Guys, here's the key:
Yellow Line: This is how you get to the site, either by walking, driving or OHV.

Red circle: These the best areas of the horse river for fly fishing, in my experience.

Orange Circle: Fort McMurray first oil pit. You can walk over it and tar will still come up through the ground.

Orange Rectangle: The place in the river where you can cross and access the southern bank of the Athabasca River (only locals know about this). There is a vast amount of wildlife in this area and it's the perfect place to enjoy a packed lunch" -

Aaron Chalmers
22. Float down the Clearwater River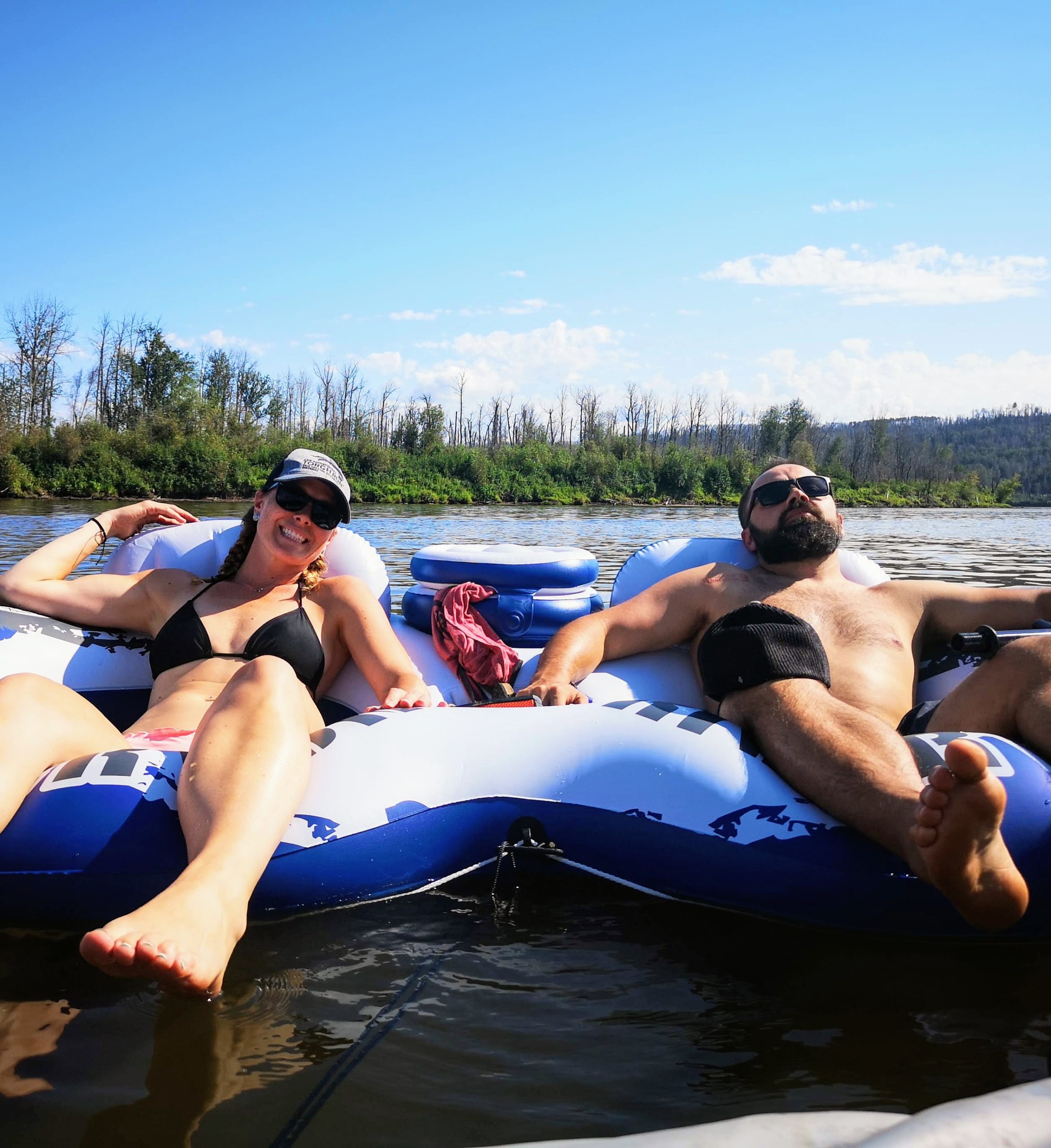 Floating towards a successful relationship
Enjoy a hot summer afternoon by floating at the Clearwater River. Start off at the
boat launch
up Draper Road, and float downstream to Snye Park. Make sure to park a vehicle at both locations. 
Safety Note: While this date idea is one of the best things to do in Fort McMurray on a hot summer day, there have been incidents in the past. Must-haves: floaties, towel, weather forecast, swimming experience, sobriety, cell phone, dry bag, and life jacket.
23. Wood Buffalo Viewing Point and Bison Sanctuary
It turns out that Syncrude's herd of Bison is
doing quite well
! Nature lover? See for yourself...
Created by Syncrude to help maintain wildlife local to the area, catch a glimpse of bison and other wildlife at this spot near the northern plant sites. You can also walk the dog at the reclaimed lands or see the Giants of Mining while you are up there.
All Season Date Ideas
24. Breakfast at The Fish Place 
All the seafood lovers will love this date idea. A local place that offers a variety of seafood to jump-start your day.
25. Avenue Coffee
Trying to plan a formal date and spill the beans.
Avenue coffee
has everything you need.
26. Lunch at Surekha's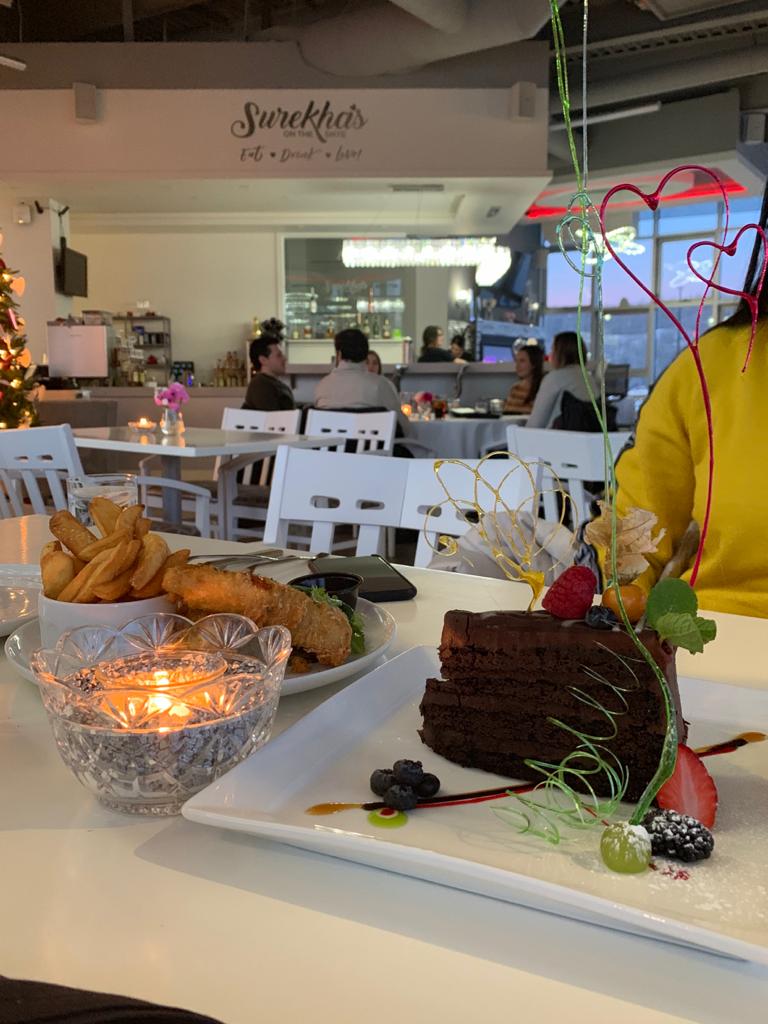 You might bump into us blogging here
Talking about your endpoint at Snye by floating from the Clearwater River, Surekha's is the place to go. Located on the top of the Snye hill, enjoy some mock-tails after the whole day of floating. The ambiance and food will make a perfect date for your evening.
27. Get "Out Of Town" at Famoso at YMM Airport (inc Viewing Lounge)
Looking for another reason to eat a delicious slice of pizza with your other half?
Famoso
is your spot. Take a romantic drive to the airport and enjoy some original Italian pizza. The restaurant also offers free parking passes at the end of the meal. 
28. Movie night at Landmark
The newly opened landmark at Eagle Ridge commons will surely make your hearts happy. With recliner seats and 3D services, movie dates got more fun and comfortable. Download the
Atom app
to book your show and seats in advance!
29. Party at East Village Pub 
The
EVP
will make sure you have the VIP night. Get some drinks and party all night with your partner.
30. Salsa Nights at the Banquet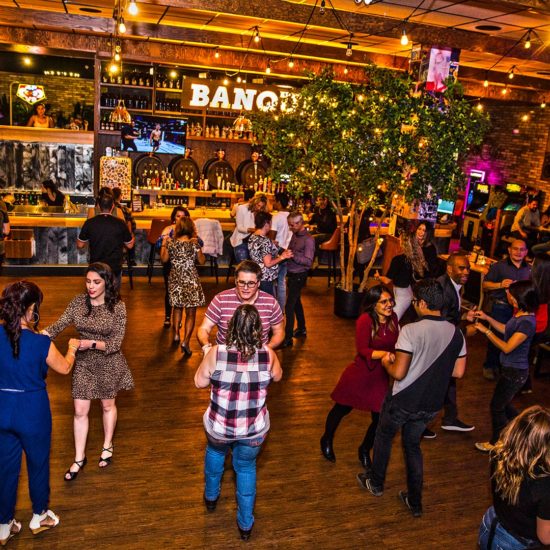 Photo courtesy from thebanquetbar.com
How about some fun Salsa and Bachata!
Banquet
offers
Salsa
fun for $20 with lessons and appetizers and the fun part is no experience required. They offer bowling, spin to win, shuffleboard, giant Jenga and special event/shows. Have a perfect romantic dinner on the roof dining area. 
31. Swim at Mac Island 
Take a dive at the Aquatic Center. The activity works for all seasons and fun at all times.
32. Read Your Favourite Novels at WBRL
Do you fancy a quiet, geeky time? Visit
Wood Buffalo Regional Library at McIsland
. Borrow books by any author you like while spending some quality time with your partner. WBRL also offers fun
events
that wouldn't break your bank. 
33. Walk the dogs at SPCA
An ideal place for all pet lovers. You can choose a pet to cuddle with or take them for a walk. Share your common love of dogs and cats and spend an amazing time together. 
34. Galas 
What's another way to have fun while networking and enjoying some extra special company. Wear fancy clothes and make it a special evening. 
35. Board Game Shop - Drop in and play (Tactical Magic Games) 
It's hard not to be very competitive but be easy on your partner while playing some fun board games. If you're planning a fun board game night, Tactical Magic is a one-stop-shop. 
36. Mr. E's Solve-it-torium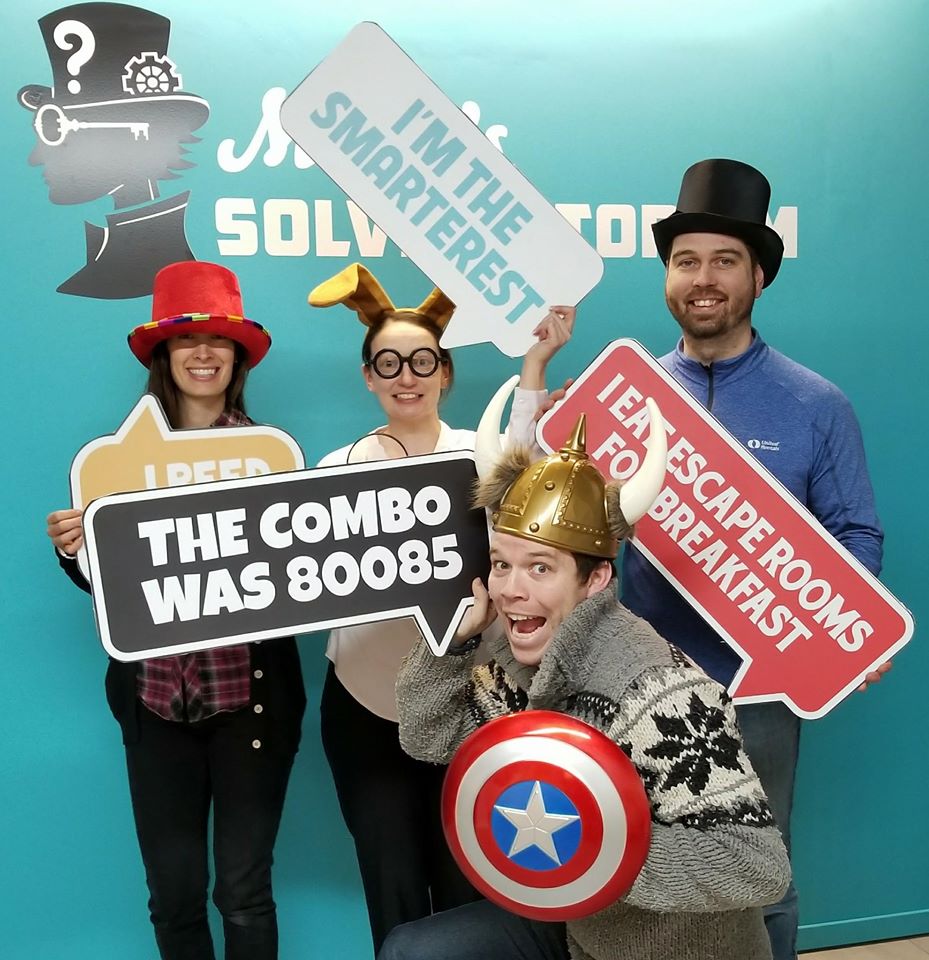 Agents Tom & Breanna after escaping!
You can never go wrong with double dates. Mr. E's offers a variety of adventure and mystery rooms. Working together has never been more fun.
37. Colour Me Mine 
Get creative with your dates, have fun with colouring and gazing and create some unbreakable memories
38. Trivia Night (Beer Passport) Tavern On Main 
Test yours and your partner's IQ by participating in the Trivia Night at the
Tavern On Main.
From Star Wars to Disney trivia, brush up knowledge and play on. 
39. Live Comedy & Karaoke at Baileys 
Laugh and sing your heart out at Bailey's. Take your singing skills from shows to the live audience and laugh together at Live Comedy. Couples who laugh together stay together.
40. Arcades at The Alley YMM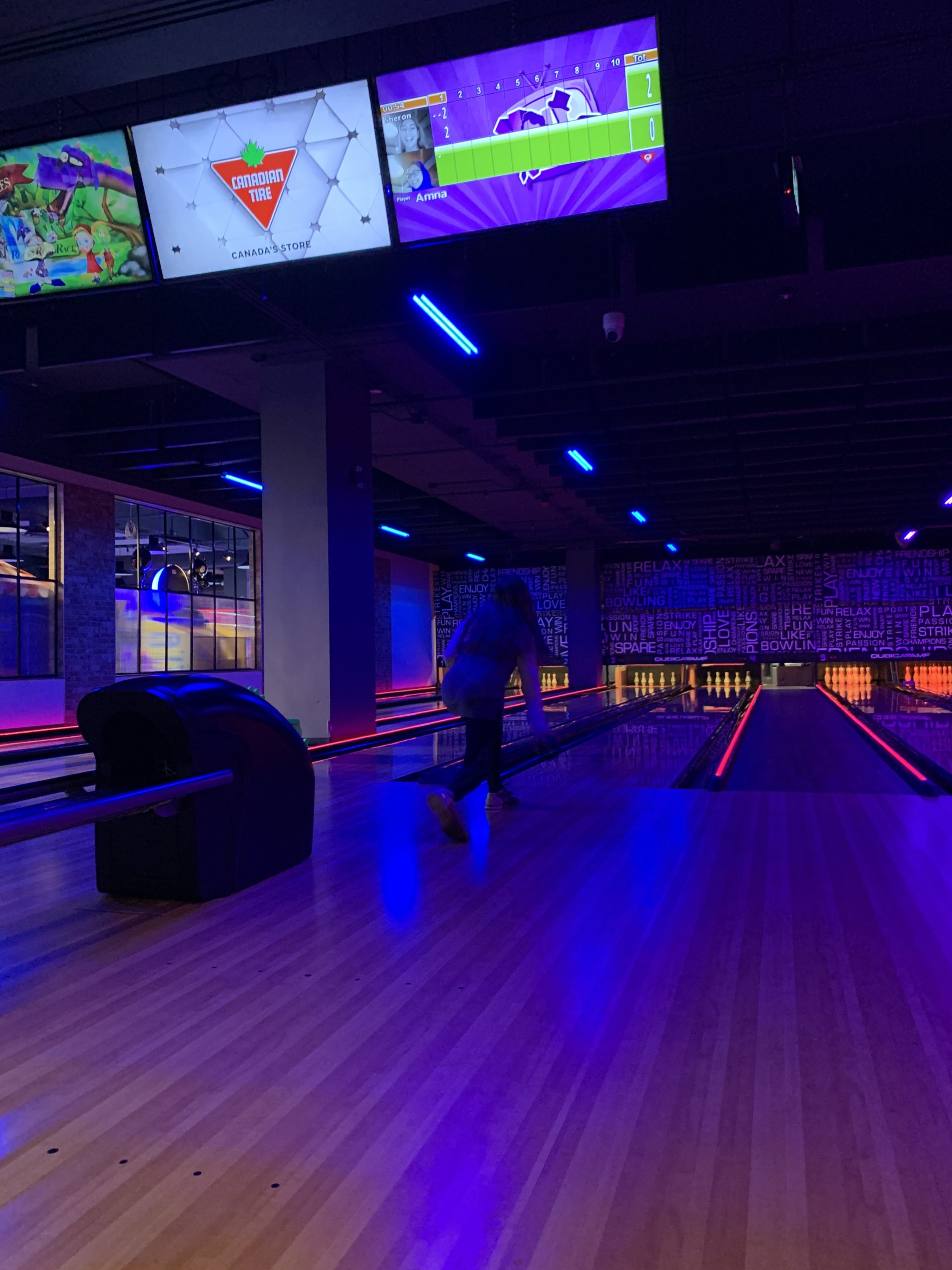 Finally, we can bowl again!
Enjoy at the arcade and bowling with an all-day bar. Make sure to make an appointment as the weekends can be really busy. Have some cheese pizza and show your partner who can bowl better.
41. Jump around at Aim High 
Show your flipping skills at
Aim High
. Bring out your inner child to enjoy at the Trampoline Park and Virtual Reality. 
42. Points North Gallery  
Explore gorgeous local art pieces with your gorgeous date at Points North Gallery. Get to know the local artists and shop at the gift store. 
43. Enjoy Theatre season at Keyano
From live comedy to concerts,
Keyano theatre
hosts a variety of shows to make your evening more enjoyable. Check out their
website
to plan your next date. 
44. Oil Sands Discovery Centre 
Get the feeling of Oil Sands while staying in the town and a close-up at
Oil Sands Discovery Centre
.
45. Fort McMurray Giants at Shell Place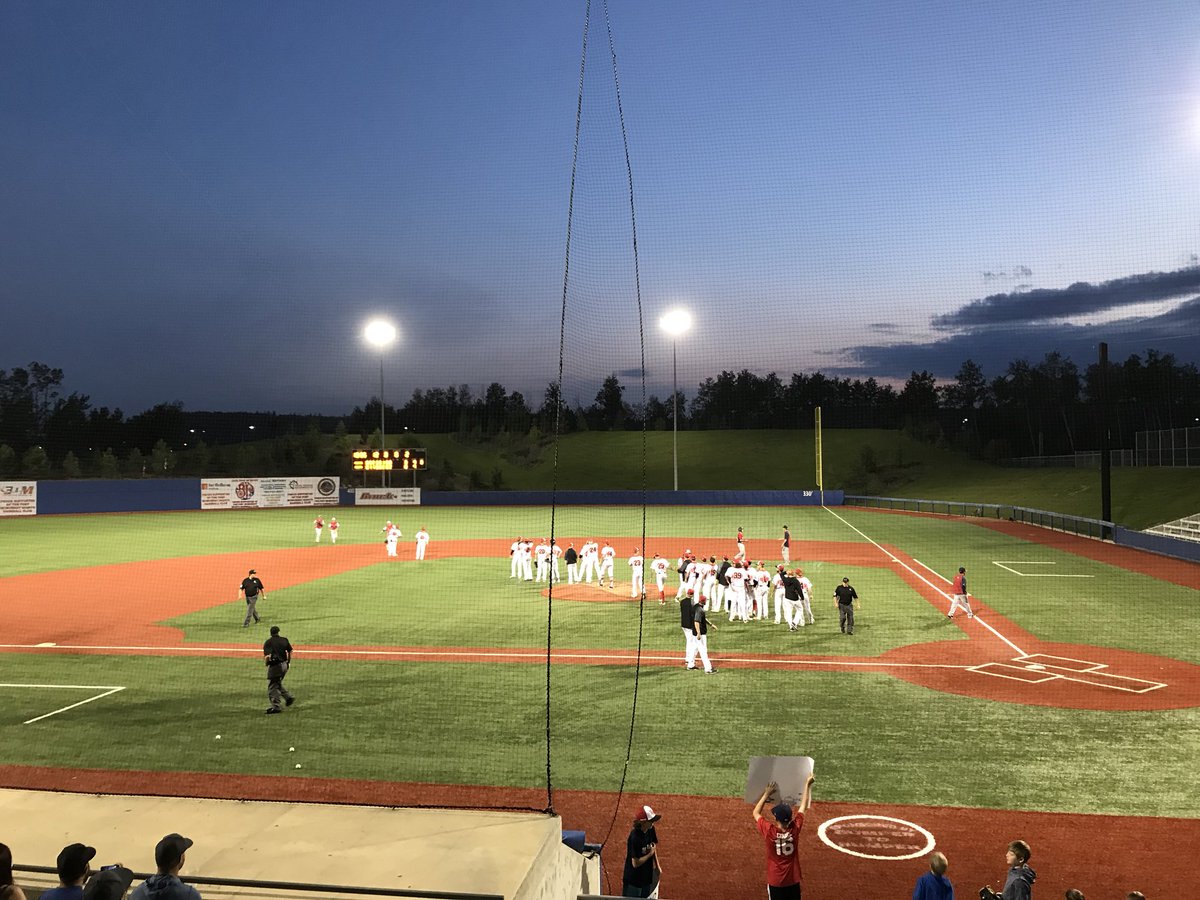 Photo courtesy from Fort McMurray Giants
Watch a home run up close and cheer for your team at Shell Place. Fan of
baseball
will be your fan after the match.
46. Watch a football game (Monarchs)
Touchdown just got more fun and if you are part of the Monarchs then there is no other way to impress your partner. Enjoy the game of Monarch at Shell Place.
47. Watch Oil Barons at Casman Centre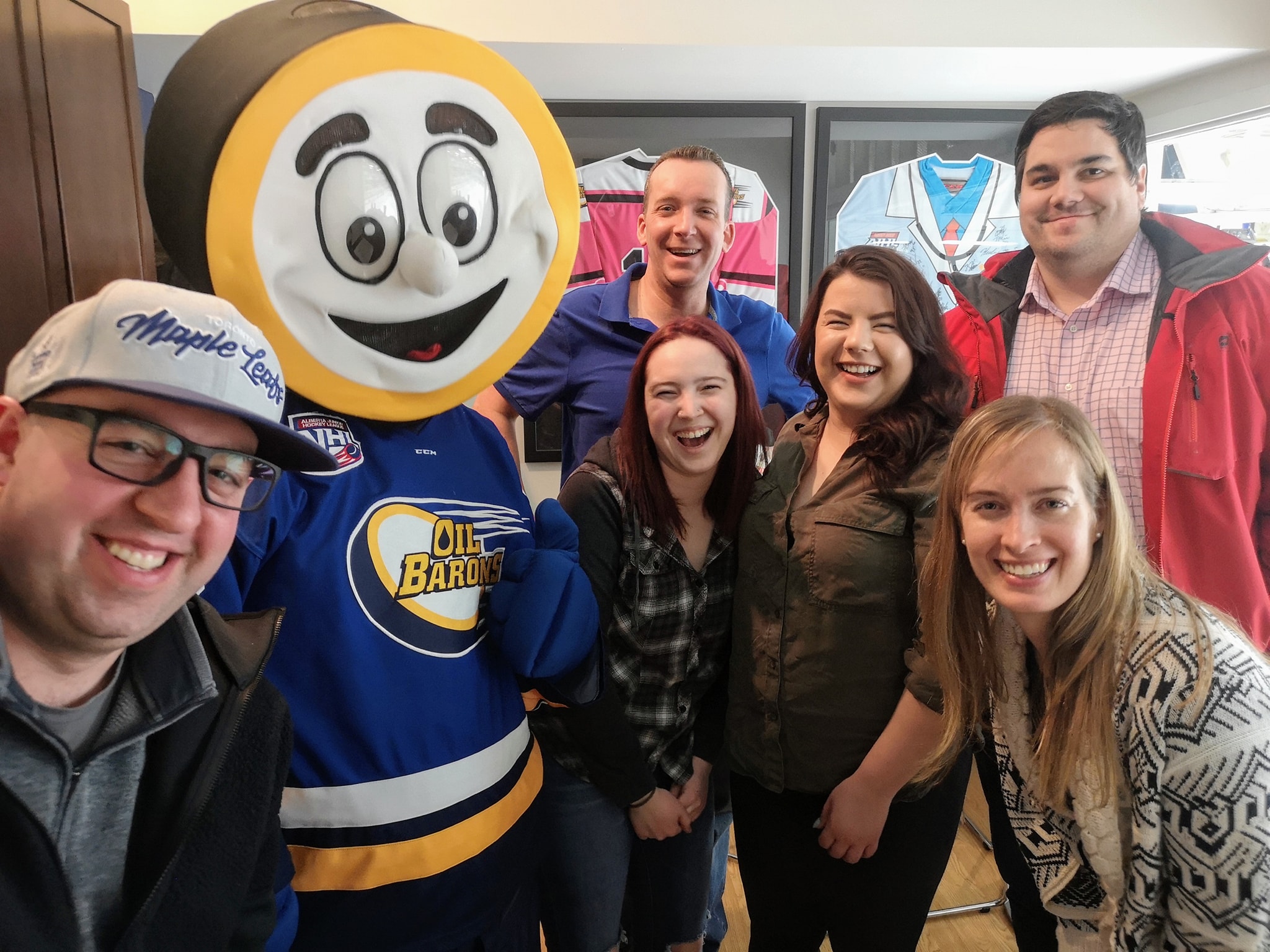 A-Team agents with thanking our clients in our brokerage's box at The Casman Centre
Join the national spirit of ice hockey. Oil Barons will surely keep you entertained. Check out their
schedule
and cheer for your local team. 
48. Watch Huskies Games (Keyano football and volleyball)
Be a part of Huskies Athletic! Keyano's mascot - Husky brings you different games such as volleyball, basketball, and soccer. Watch the games at
Syncrude Athletic center
49. Couples Spa 
Tired after a long shift and can't decide on a gift?? Book a
couple's spa
and spend some relaxing time with your partner. Try couples spa at various locations in town.
50. Couples Yoga at Higher Health
Relax your muscles and enjoy some yoga. Attend their
classes
with your partner at Higher Health. Drop-in at any class so it's never too late for a surprise gift.
 Bonus Idea: Home Shopping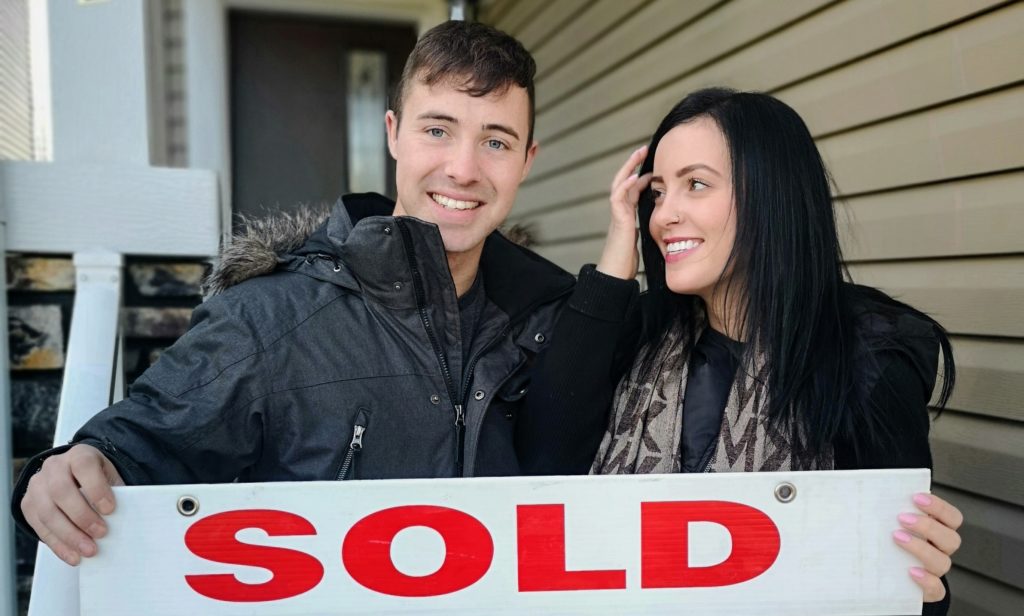 The look of love
Is there anything more romantic than buying your first home together?
  If you're ready to take the next step in your relationship, why not book your
buyer's consultation
with one of our specialist buyer's agents? :)
---
Footnotes:
Quoted from: Fort McMurray Tourism