A wealth of resources and much more inside Canada's largest recreation centre
Like all public libraries, the one found in Fort McMurray is an essential part of having an educated and literate community.
However, the Wood Buffalo Regional Library (WBRL) is unlike any other in the nation because it's nestled inside Canada's largest recreation centre at MacDonald Island Park.
Formerly known as the Fort McMurray Public Library, the library was founded in 1965. When celebrating its 50th anniversary in the fall of 2015, the first-ever employee of the library, Fern Brooks, was a guest speaker.
According to MyMcMurray News, Brooks said, "There was no heat. When members came in, people were delighted that there were books and I did my best to be very pleasant so that they wouldn't notice that they had to wear their winter clothes, including their mitts, when they were choosing books."
At the time, the library was located in the city's garage and had only one small section with approximately 3,400 books.
And before making its move to MacDonald Island, it was located at the bottom of the municipal building, where Blue Mountain Bistro and McMurray Experience can be found today.
Even since then, the collection has grown to over 160,000 items from books to tablets and plenty of room with two floors of space. On the WBRL website, it states it sees more than 20,000 people come through its doors each month.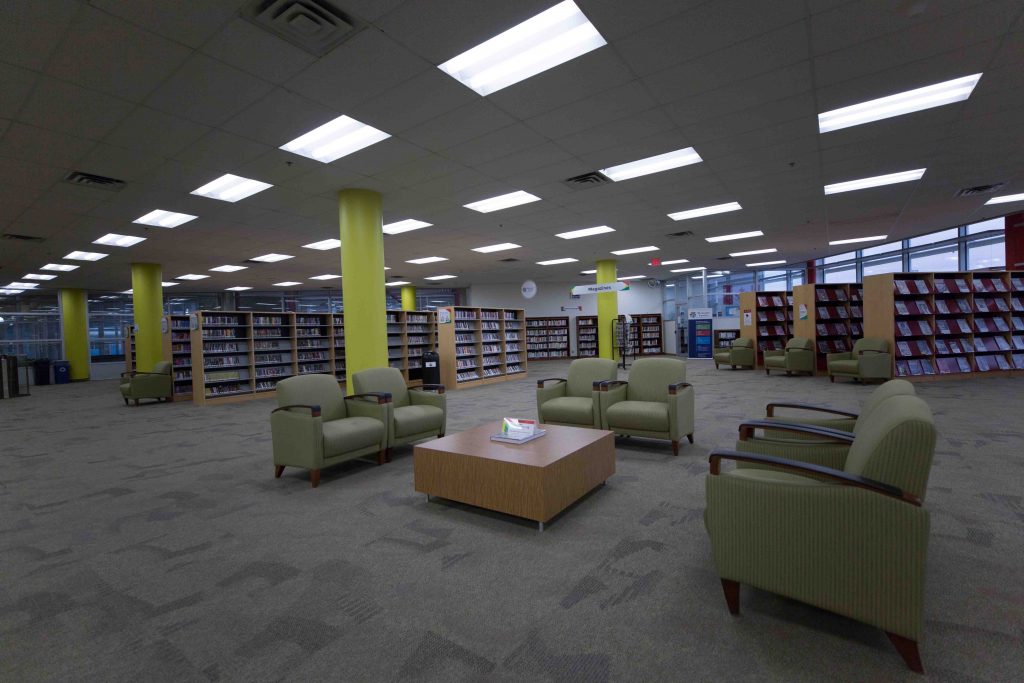 The expectations for the traffic volume were high when the library first opened on the Island. And it was only going to get even more when the announcement of the $127 million MacDonald Island Expansion project was first revealed.
CTV News shared the story stating "Canada's largest community recreation centre is getting even bigger."
It also quoted Russell Thomas, a former city councilor and Deputy Mayor at the time of the announcement saying, "Today was really important because the expansion of MacDonald Island – which is already viewed across North America as an unbelievable facility – is going to take our community to another level."
Since moving to MacDonald Island, the Library has brought in top celebrities for the library's staple event – WBRL's Centre Stage, which was formerly known as the Northern Insights Speaker Series.
Most recently, the internationally-celebrated Paralympic athlete Rick Hansen shared his epic two-year wheelchair around the world to local residents. Past speakers for the events have also included Martha Stewart, Arlene Dickinson, Malcolm Gladwell and Shane Koyczan.
Local writer Theresa Wells of McMurray Musings stated in her 2012 blog that she was proud of the library and called their annual event "a bold initiative on their (WBRL part)… Nothing is beyond our reach, no stars or ideas or innovations. We can do anything in this place of big spirit, big ideas and big belief."
The WBRL hosts community events and activities on a regular basis. For more information and hours of operation, visit www.wbrl.ca.