Fort McMurray Real Estate Enters A Seller's Market
Seller's Market
Since this Christmas, the Fort McMurray housing market as a whole has moved from a balanced position to displaying seller's market conditions.
By our calculations, the new listings to sales ratio in February was 1.5:1 (with under 2:1 indicating a seller's market), and the absorption rate was 4.4 (with anything under about 4.5 indicating a seller's market.)
This means prices are rising in some housing types (moderately), and negotiations are often favoring buyers. Notably, the strength of our seller's market at this time, is not strong, as compared to other housing markets across Canada. Further, it varies according to the housing type.
Supply
The number of homes on the market is extremely low compared to recent years. We believe this is mainly due to prices having fallen so significantly over the last few years as our economy has been moving through the commodity supercycle. We believe that this effect has been exaggerated by the pandemic. At certain times in the last 12 months (particularly Q2 2020), the rate of new listings has been down because some people are waiting to list their homes until they feel safe to do so.
In our opinion, the shift into a seller's market has been primarily caused by this lack of supply.
Demand
Sales are still running at a pace comparable to recent years. They have not yet been significantly increased by improving the oil industry, or low-interest rates.
Table 1: Months of Inventory for Different Housing Types & Prices in Fort McMurray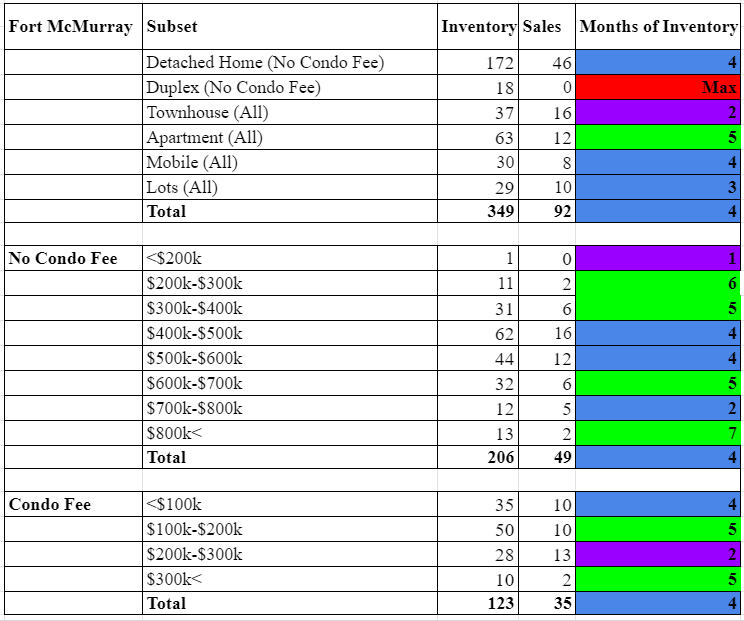 It is worth noting, however, that we have noticed a sizeable shift in the shape of demand over the past 2 months.
As you can see in the above table, for the first time in 7 years, we are seeing demand equally distributed among the price ranges (for no-condo). We believe this is due to a) a return of confidence, and b) a growing cohort of people now able to "move up" into larger, more expensive homes.
This is leading to relatively tougher market conditions for sellers in the lower price ranges (sellers to balanced) and relatively easier ones in the high price ranges (buyer's market right the way to balanced or seller's market).
Townhomes had a very active month. Apartments remain oversupplied but much less so than previously. We are watching insurance rates and condo fees, which may fall due to 2021 being five years away from the wildfire. This could change the investor equation and make these properties a "buy".
Analysis & The Future
In our opinion, the Fort McMurray housing market is displaying a lot of predictability for the spring season ahead (seller's market), assuming fundamentals don't change. But those of us who are expecting change this year in the interest rate, the oil price, and pandemic effects want to caution against predicting really anything beyond Q2.
It is our belief that the Fort McMurray market has reached a bottom for almost all housing types (either 2020, 2021, or 2022) and the future after that will be determined primarily by oil/pipelines. So the future is unknown. We know we will see more of a "move-up" market over the coming years, and eventually fewer foreclosures.
This spring, homes will continue to be easier to sell, which is providing an opportunity for people who have been saving & waiting to sell their homes. On the flip side, there are likely going to be parts of the market in which buyers will find it harder to find and secure quality properties.
If you'd like an A-Team agent to sell your home, or you'd like to be referred to a quality sales agent in Fort McMurray to help you sell or buy, please feel free to reach out.