Let's Get Right to it!
Ok, now this is getting me really excited for our beautiful summers!
Have you ever floated down the river in Fort McMurray? Would you like to know where to go and what to bring? Then read on, and enjoy!
I moved to Fort McMurray in 2013 and it took me a few years before I finally asked someone where to go to float down the river here. I'm not sure why it took me so long to ask as I had floated a bunch in other cities before then and loved it! I think I was just unsure of where to find the information or who to ask...there was nothing to find when I looked it up on the Internet.
I am so very glad that I eventually got the information, and now I want to share it with you! 
Why Float?
If you are wondering: "Why would I want to float down the river?", then I will tell you about my experiences. Reasons why I go floating:
Peaceful: It is soooo peaceful out there! Honestly, if you are looking for a relaxing activity to do on your day off, then I highly recommend floating as it is so peaceful on the river….no one around except other floaters (perhaps) and the odd power boat that passes by. It can be very quiet if you don't take music along, but that is your choice!

Scenery: The scenery is really picturesque - you can enjoy our beautiful trees and see a side of Fort McMurray that you likely have never seen before! If you get lucky, you can catch a glimpse of a beaver or a deer… I think we are very lucky to live in such a beautiful city! One time, my husband thought he saw a bear, but I am not positive that was true….maybe you have heard of stories of other animal sightings?

Social: Floating is a really fun way to see your friends and family! You can go with as many people as you want really! As long as everyone has something to float on, then you can tie as many floaties together as you want! Sometimes we take our waterproof speaker and listen to music, which might reduce the "peacefulness" of the experience, but it can definitely hype up the energy and make it a really fun afternoon!

Dogs: We usually take our labradoodle dog, Matilda, with us in our raft. I love that this activity can involve her as we love having her with us and she loves swimming! Be careful not to take your dog on a floatie that they could maybe pop with their nails though...

Sunshine: This is one of the best ways to get some much needed sunshine and vitamin D since there are no trees to shade you from the sun! I love going on a really hot day (as we do get a lot in the summer!) and then I dip my toes in the water if I need a cool-down. :)
What to Bring?
I usually over-pack (as my husband, Tom, would say!), but I like to have what I want when you are hours away from getting back to shore! Here is my list of things to bring floating:
Floating device (dingy, rubber tire ring, party island, floating device that you would ride in behind a boat or anything that you can sit in and float really): You can buy these at stores like

Canadian Tire

and

Home Hardware

. You can go really big and your friends can ride in the same floatie, or you can buy individual ones. Just remember that you will want something that is comfortable as you will be out on the river for a while….

Hat: I strongly recommend taking a hat as the sun could get very hot and there is no shade on the river. 

Drinks: It will be hot out there, so take water and your other favourite drinks to stay cool and hydrated.

Cooler: Best to take a small cooler if you have one so you can store your drinks and keep them cool. Remember you will want either a floating cooler or one that will fit in your floatie/boat.

Pump: You will need to use a pump to fill up your floatie when you arrive at the starting point, but I also suggest taking one with you on the boat in case you spring a leak. Electric pumps are the quickest and easiest of course, but hand pumps also work!

Snacks: I love to snack, so I always take chips, candies, or granola bars on the water with me. Remember you will need room in your floatie/boat for these.

Waterproof bag: If you want to ensure you don't get soggy chips, then I recommend bringing a waterproof bag to store your snacks in. This is also a great spot to put your phone or keys.

Towel: Most times I don't take this on our floatie with us, but you will definitely want a towel when you get out at the end so make sure to keep this in your vehicle that you leave at the ending point (more on that later).

Music player: If you have a waterproof speaker, and you plan to take your phone anyway, then I recommend taking it with you on the water as listening to your favourite tunes will just make the journey more fun! Again, make sure you have room for this in your floatie/boat.

Sunscreen: Yep, don't forget your sunscreen! I definitely recommend putting it on before you depart, but it can also be a good thing to take with you on the water for when it starts to wear off. Waterproof sunscreen is best, of course. You will be out in the blazing sun for a few hours, so even my friends who don't think they will burn, end up burning….

Bug spray: Depending on the time of year (usually late in summer is the worst), you might want to take bug spray for the journey as there are mosquitoes even on the water!

Paddle: This is probably one of those "nice to have" items, not necessarily required. I find that at the beginning and the end, it is nice to have paddles to get you to and from shore. Also along the way, I find we drift towards the shore every once in a while, so it is nice to paddle us back out to the middle so we can resume floating. I have used a long tree twig in the past when we have forgotten to bring a paddle, but that is not ideal.

Sandals or water shoes: This is for sure an optional item, but I am telling you now that some people don't like the squishy sand in their toes when getting off and on the floaties, so feel free to bring some waterproof footwear along if you want!
Where to Start?
There are a few places you can get in, but my favourite place to get in is at the boat launch in Waterways next to the dog park (see map below). Drive to Waterways on the way to Draper (Saline Creek Drive) and turn left at the signs for the dog park. Keep to the right, and at the very end of the road, you will find the boat launch. There is plenty of parking here, but you only need minimum vehicles to take you there as the rest of the vehicles will be at the end point.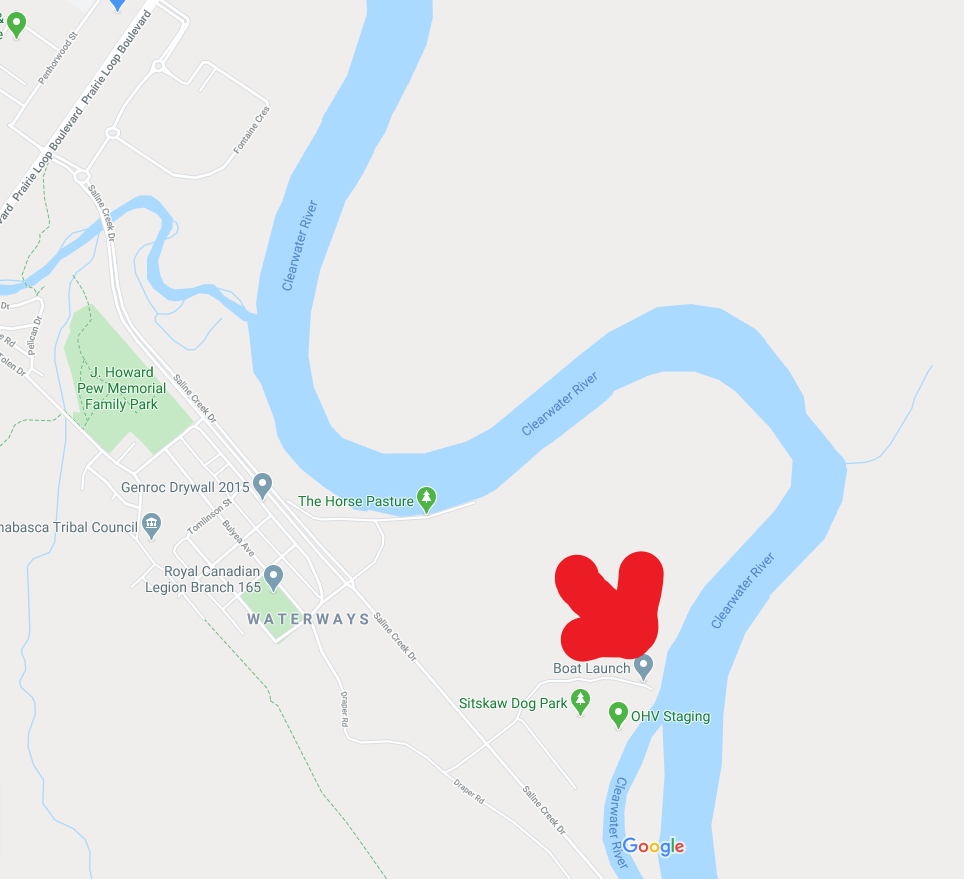 How Long Does It Take?
It depends on the wind that day, but usually it takes us 3 hours to float down the Clearwater River. It has taken us 4 hours though on days when we are going against the wind. I would plan on it taking you 4 hours just to be safe!
Where Do You End?
Snye Park. Such a beautiful place, too! You float down the river, along downtown, and end up at the Snye Park Boat Launch (see map below). I love to stop for ice cream at Surekha's on The Snye after deflating our water floaties - their gelato is DELICIOUS!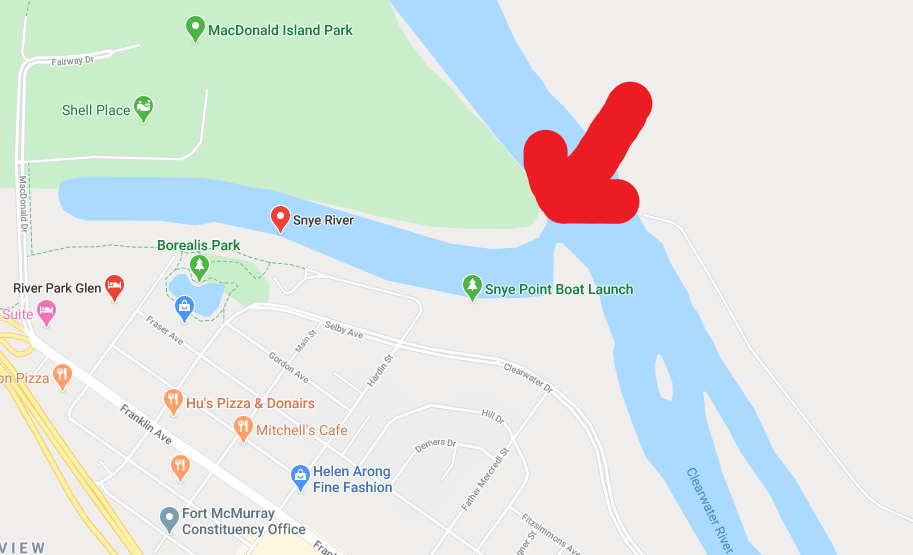 Transportation
My advice is to take 2 vehicles. Leave one at the Snye (with towels and a set of keys for the other car) then take everyone in the second vehicle to the starting point. Be sure to have keys for the vehicle at the starting point in your boat/floating device (waterproof bags are great for this, but a plastic ziploc also works great). 
Have fun!
Now that you have all the information you need (and probably more haha!), you can find a nice sunny day to enjoy our beautiful river! Have fun and be sure to share this blog with your friends so more people can enjoy what our amazing city has to offer! :)
-Breanna