Fun with a New Attraction
Okay so usually we're writing about real estate, but today I wanted to share the best thing about my day yesterday…
It's an amazing business in Fort McMurray called Aim High Park.
We've written before about the boom in the service sector that we're seeing due to falling commercial/retail rents (think Avenue Coffee, Mr. E's Solve-It-Torium), but I wanted to put this business out there as another shining example.
NOTE: The park is not free. You can find pricing info on the Aim High website 
Fort Mac is getting better and better, and Aim High Park has two wicked parts to it:
Virtual Reality
Trampoline Park
Virtual Reality (VR)
Some of us tried this in the 90's so our natural reaction is "meh".
So bad was VR back in the day, that even after dragging myself down to Aim High Park with a couple of friends & wifey, that I went in with some pretty low expectations.
At first, I sat and watched our friends donning headsets and backpacks containing computers. I watched them immediately become animated. But as a spectator, watching what they were seeing on TV screens, I was a little bored, to be honest.
Then it was my turn.
Immediately, my mind was blown.
Like, totally blown.
There are fifty games to choose from! Here are some examples:
Walking around a haunted house (watch out for headless babies, etc.)
Playing games (e.g. throwing things at pottery at the fairground - my favourite)
Boxing (exhausting)
Sword-fighting gremlins with people in VR arcades all across the world
It was a real out-of-body experience; so hard to explain - you really have to try it for yourself! To give you an idea of how real it is, before you get used to it, if you play for too long, then you get nauseous (all of us felt that way). At one point, I went to lean on a "table" (in the fairground) and almost fell over.
The staff was a happy, super helpful, young bunch. It's a costly thing (at $15 for 30 minutes or $25 per hour, per head, but you can check the full pricing info here), but not as expensive as actually getting out of Fort Mac. Compared to the cinema, it's a lot of money, especially if you have a large family, but it truly is an escape.
The biggest issue is that the VR is highly addictive. You won't want to put the controls down...Eek!
They even have a virtual escape room (which we haven't tried yet). We're obsessed with Mr. E's Solve-It-Torium, so I'm sure this virtual experience will make us pretty happy, too.
Trampoline Park
As an exhausting activity, trampolining is probably a more cost-effective way to go, and younger kids are sure to love it.
We tried this when they first opened, and I have to say: it was a pretty happy thing. Tons of bouncing around into padded walls and jumping off climbing walls into feet of foam pieces. There are fun challenges (e.g. running off walls like a ninja), and it's all smiles. Exactly what's needed after a hard day of, for example in my case, blogging and selling houses.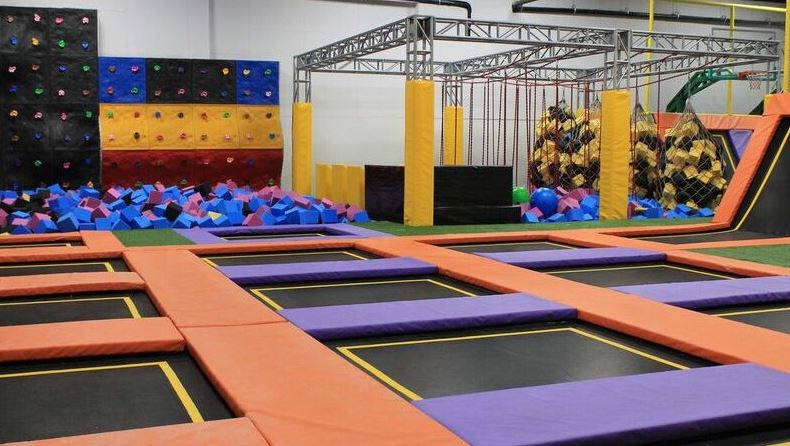 What could be better than trampolining after you finish your pipeline inspections, or safety investigation, or generally working hard in Fort Mac?
Freedom!
The truth is, life in Fort McMurray can be difficult sometimes (especially the last 2-3 years), but there are increasing amounts of fun to be had locally without having to spend your hard-earned money traveling.
Aaahh...good times.
Check out our other blogs (and feel free to subscribe) for useful information on a range of topics from Fort McMurray to real estate! Follow us on Snapchat or Instagram to have fun with us and see what we're all about.