Although I wasn't born in Canada, I was fortunate enough to become part of this incredible nation by choice.
I cried when Sidney Crosby scored the winning goal in the Olympic finals, but there's one thing about natural born Canadians that I'll never understand:
"Oh, no I couldn't move house in the winter!" - Any Canadian
I really don't get it. So I ask you "why not"? I usually get back a mumbled answer about snow and cold, and the physical act of moving. Something about having to have the door open and having to keep taking your boots on and off. It's part of a bigger thing I don't understand about people who grew up here, which is an aversion to bad weather. If you hate snow so much, then why, might I ask, did your forebears come here?!
Of course, I'm joking! :)
But seriously, is buying a home in the winter months a good idea? Let's see:
[Before we get started, check out the fun disclaimer in the footnote.]
Seasonal Cycles
Our real estate market is cyclical:
1) The national housing market is economically cyclical (interest rates, credit). 2) The Alberta (especially Fort McMurray) market is dependent on the commodity super-cycle. 3) The natural world (and our school calendar) affects the real estate market.
If not much is going on in 1) and 2), then 3) will dominate. But regardless of what is happening in 1) and 2), our housing market is impacted by 3) (seasonal changes in our market operate in the background). In the last few years (true also this year), there has been so much change in 1) and 2), that 3) has not been very noticeable.
People like to buy and sell homes in the spring and summer months. Maybe it's because they like to see the landscaping, or maybe because they want their kids into the new home long before the school year starts, or perhaps it's because they don't like cold feet when moving.
What am I talking about? I'll explain, but first, let's look at 2017 new listings and sales:
New Listings And Sales in 2017 So Far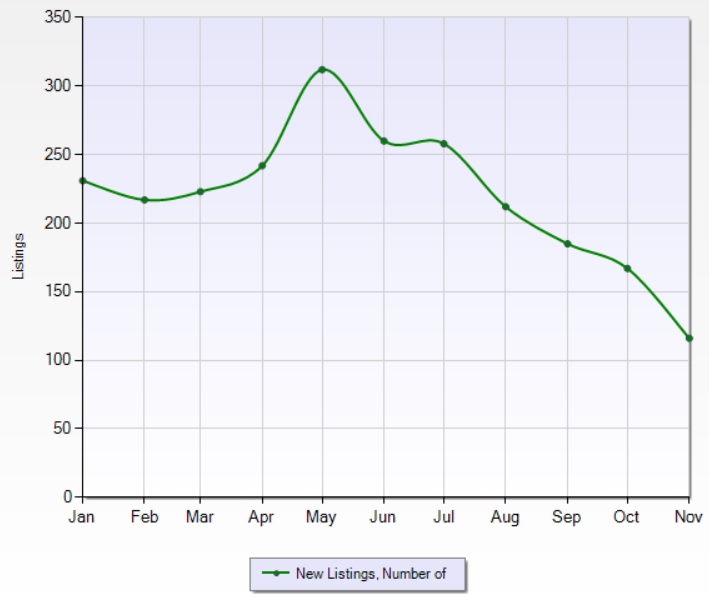 This year has been fairly typical and as you can see in the diagram above, most people list their home in the first eight months of the year, with the peak usually in April or May.
So that's new listings. Now let's look at sales activity: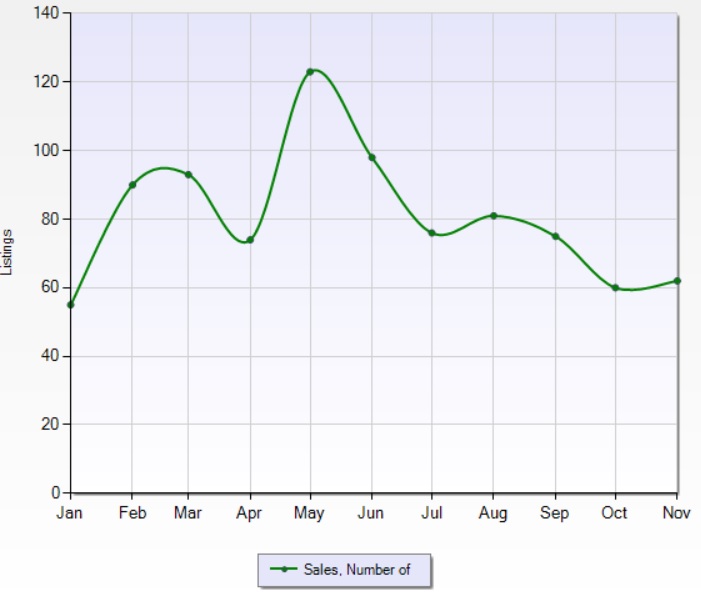 From the above diagram, we can see that most homes sell between February and June. Some years (about 50% of the last ten years), we see a bump in the fall, but just as often we see a "shoulder", as we have this year, during which sales don't rise or fall from late summer levels until we get into the worst of the winter (December, January).
New listings and sales are highly correlated. Quality inventory drives sales, and the promise of sales causes people to want to list their homes for sale.
Inventory & Quality Inventory
But what about the
stock
of available homes over the year? What does that look like?
Listings and sales (as well as expired listings) combine to give us an inventory of listings on the market at any given time. For example, at the time of writing, we have 708 homes listed for sale in our urban market area. This is the selection of homes that buyers get to choose from.
As you can see, there is more choice in the summer and less in the winter.
Since the best properties sell the most quickly, it makes sense also that quality inventory is easier to come by during the summer months (having said, that there are always some incredible gems in the marketplace, and our job is to find them for you).
Investor vs. Consumer
You may be
thinking of buying a home
. If so, you might be doing so either for purely financial reasons (investor) or simply to enjoy life now (consumer). For most people, we find your motivation is a mixture of both.
We generally find that consumers tend to have more success during the summer months when they are likely to find just the perfect home. There is more good stuff out there, but be aware also, that there are usually tons more buyers. Sometimes in showings, you can almost smell the last guys. Not a great feeling!
On the other hand, those looking for the best deals might prefer to buy during winter months, when prices can be lower (all other things being equal). The reason prices adjust seasonally is because while inventory cycles down slightly in the winter months, sales take a hit, especially in December and January.
Please note though that these are not fixed rules, just general trends, and you can find great homes and great deals at any time of the year if you have the necessary information, skills, and team. Also, we talk as if the timing of a purchase is a choice. But, for many people (investors and consumers), the timing of a purchase is dictated by other things, so you might not have much of an ability or willingness to delay - and that's okay!
So is buying a home in this season a good idea? My answer is that it depends on who you are (and why you are buying). It also depends on other things going on in the marketplace...
A Lot Going On Right Now
Please be careful not to read too much into this one article, because it applies best to balanced markets (right now we are in a buyer's market - prices are falling due to non-seasonal reasons). I really just wanted to write this just to open up peoples' minds to another dimension/cycle you might not have thought much about.
To better understand the market, we recommend catching up by checking out our previous blogs on the topic:
Fort McMurray Real Estate Crash: A Timeline Fort McMurray Housing Market Recovery: 8 Signs to Look for The Effect of Oil Prices, Employment and Interest Rates on the Fort McMurray Housing Market
If you'd prefer to chat in person, we have specialist buyer's agents, trained to look after YOUR best interests, so don't be shy to reach out to us. We'll look after you like family.