Listings for Sale
Here's a chart to show the inventory of vacant lots listed for sale on the Fort McMurray MLS®️ since the 2016 wildfire:
Chart 1: Inventory of Vacant Lots over Time[efn_note]Data used for the charts in this post is sourced with the following criteria: Residential SF vacant lots in Abasand, Anzac, Anzac Business Park, Beacon Hill, Dickinsfield, Downtown, Eagle Ridge, Grayling Terrace, Henning Ridge, MacKenzie Park, Parsons North, Prairie Creek, Prairie Creek Business Park, Quarry Ridge, Rickards Landing, Saprae Creek, Saprae Creek Industrial Park, Stonecreek, Surrounding City Area, Taiga Nova Eco Industrial Park, Thickwood, Timberlea, Waterways, Wood Buffalo, YMM Commercial Park.[/efn_note]: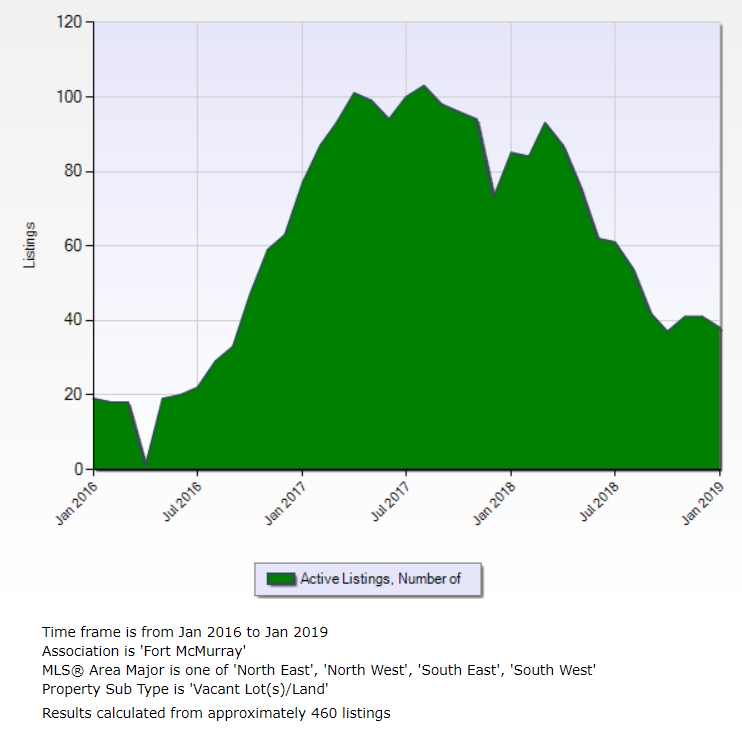 We can see that the number of vacant lots on the MLS®️ today is lower than it was at any time since the fall of 2016.
New Lot Listings For Sale
The following formula is true:
Formula 1:
inventory = last month's inventory plus new listings minus sales that month (and expireds)
So, let's investigate by breaking down the vacant lot inventory. Let's look at how the rate of
new listings
and sales has changed over the last three years:
Chart 2: New Listings of Vacant Lots over Time (Monthly):
As you can see, the rate that new listings came onto the market rose rapidly over the first 12 months after the 2016 wildfire. This was because a portion of victims of the fire made the decision to list their lots for sale instead of rebuilding (presumably as they worked through the insurance claim process). Since its height in summer 2017 (37 new lot listings in one month), the rate of new lot listings has steadily declined.
Increasing Lot Sales
We also know that lot sales have picked up significantly in summer and
fall
of 2018:
Chart 3: Monthly Sales of Vacant Lots over Time: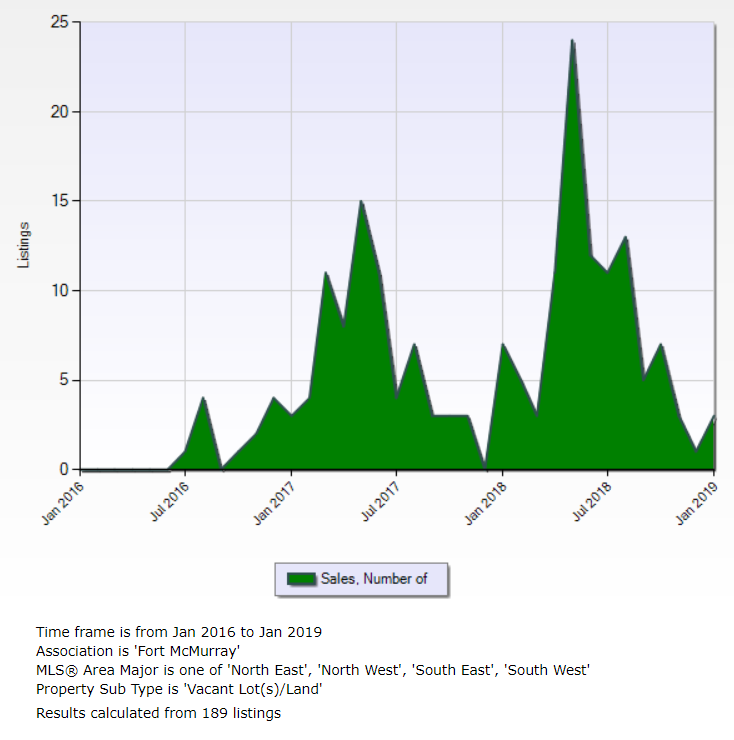 As might be expected, the demand for lots appears to be very seasonal, with most sales occurring over the summer months (when foundations can be poured for the lowest cost), in part because of the capital cost to builders of holding lots and not building on them (they'd rather not buy in winter then have to hold them).
We also see that the rate of lot purchases grew year-over-year from 2017 to 2018. This could be due to any of the following factors (as examples):
Conclusion: No Longer Lots And Lots
It's worth noting that there is no longer a large supply of
vacant lots
for builders/
buyers
to pick from on the MLS®️.
What does the future look like[efn_note]We're not permitted to attempt to predict the future. It's also a good time to mention that the interpretations of any MLS® data used are my own and don't reflect the opinions of the Fort McMurray Real Estate Board or its members. There is plenty of my opinion here, but the data we are using is super accurate.[/efn_note] (and the future of prices)? Well, it's a complex picture right now: Check out our recent posts about the possible camp moratorium or the 2018 real estate market in review to get a handle on things, and please reach out if you have further questions.
If you would like to see a list of vacant lots, you can find them on our website. Of course, there are many lots available to buyers/builders that cannot be found on the MLS®️, so please contact us for more information.
Did you enjoy reading? Thank you for doing so! You can sign up below to receive articles in this blog series in your email! :)