Snow and Your Home
Although many people don't think to
sell their homes in the winter
, this time of year is actually a good time to take the plunge. The winter setting is a unique one, especially in Fort McMurray, with snow adding to a listing... to an extent. Although selling in winter provides some welcome advantages, there are some precautions you might want to take to keep that snow from deterring buyers.
Snow really adds to a scene, but when a potential buyer has to walk through it, frustrations will arise. The solution is to keep a path open to your front door:
Clear a Path

Continually shovel a path through the snow, especially if snowflakes are still falling.
Footprints on freshly fallen snow will turn to ice if the temperature is low enough, so scrape the walk.
Sprinkle a layer of sand over the sidewalk and steps to ensure your buyers' stable footing.
Remember to open a path from the street to the sidewalk so visitors aren't forced to crawl over snowdrifts.

Via thebalance.com
People visiting your home are already valuable prospects, so making their showing as smooth as possible really pays off.
Real estate photography is a key tenet of the A-Team's selling philosophy, and a photo of your home after a fresh snowfall really works wonders. If you're the type to leave Christmas lights up all year, be sure to take them down to enhance the picture:
Winter Photos

Holiday decorations: Go for gracious and low-key; place a wreath on the front door. Icicle-style lights along gutters are a "turn-off," said Corrao. Greenery and accent lighting are nice, he said. He recommended candle-like lights in windows for large Georgian-style homes.

Photos: Don't discount the beauty of photos taken when the sun is shining on freshly fallen snow, a shoveled walk and inviting front entry. read more at baltimoresun.com
The winter provides an opportunity to spruce things up on the MLS®, as our innovative 'twilight' photos show: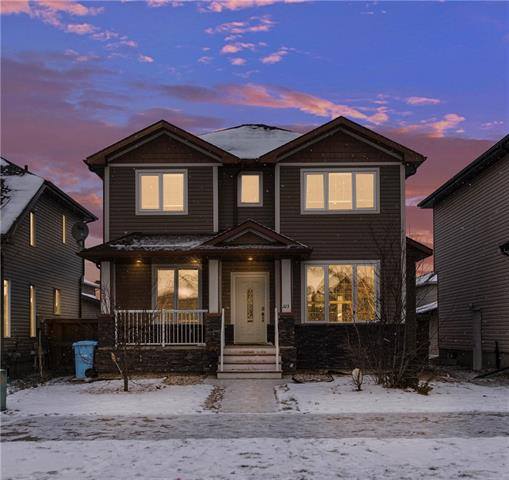 But even with awesome pictures of your snowy home, buyers still need to know what the summer will be like. Be sure to have photos of your home in sunnier months on hand:
Summer Photos

It's hard for buyers to imagine how beautiful your home and yard look in summer when it's currently covered in winter snow. So why not show them photos? Images of your home during the warmer seasons should be front and center—not only in your listing but also printed on fliers at your open house along with your floor plan and other materials. Ideally, Andersen says, if you have the luxury of foresight, "Have your home professionally photographed by a real estate photographer while the grass is green." Or if it's too late for professional photos, personal pictures will do the trick. h/t realtor.com
A buyer will be much more at ease if they know what to expect in the spring.
We're still a ways away from the spring, so aspiring sellers might want to keep this advice in mind. If you're one of those aspiring sellers, give the A-Team a shout! Our selling strategy changes with the seasons, ensuring appropriate marketing.