As was expected, the Bank of Canada rose interest rates this week, the third time it has done so this year. The rate has risen to 1.75%, and the impact it has on the housing market is sure to be felt, in a number of ways.
The rate hike didn't come out of nowhere- the BoC specifically waited for the USMCA Trade Agreement to be signed, so as to lower uncertainty:
Bank of Canada Hikes Interest Rate to 1.75%

It's the third increase this year, spurred by stabilizing consumer debt, improved economic performance and – most notably – the newly-minted US-Mexico-Canada Agreement (USMCA). That the previously beleaguered trade agreement has now been solved removes the main hurdle for the BoC, which held off hiking rates in recent months as trade doubts lingered.

"The new [USMCA] will reduce trade policy uncertainty in North America, which has been an important curb on business confidence and investment," the BoC states in its announcement.

The central bank also expects Canada's economy to continue to grow in line with its potential, with GDP to rise by 2.1% this year before slowing to 1.9% by 2020. New oil and gas projects, and steady household spending have also supported inflation which remains 0.2% above its target. Via zoocasa.com
While the trade agreement sealed the deal, the BoC was planning to raise rates anyway due to solid economic growth this year. A growing economy doesn't mean there won't be implications, however.
Even before the latest hike, affordability was a big issue with home buyers. This week's news could further reduce the number of willing buyers, and that's not considering the inevitable next hike:
3 issues facing the Canadian housing market in the final quarter of 2018

Rising rates could spook would-be buyers, placing downward pressure on the market. And, according to CIBC economist Avery Shenfeld, it looks like the Bank might be hiking rates at a faster pace heading into 2019.

"The tone [of the Bank's announcement this week] was more hawkish than we expected, dropping the reference to "gradual" for hikes ahead (which markets will see as leaving the door open for two in a row, meaning a hike in December), and asserting that rates will have to keep climbing to "neutral", which the Bank has estimated as near 3 percent," Shenfeld wrote, in his most recent note.

Most Canadian housing markets have seen overvaluation concerns ease over the past year, as housing activity continues to adjust to rising interest rates and stricter mortgage rules. But, according to a new release from the Canada Mortgage and Housing Corporation (CMHC), some markets remain in a vulnerable position. h/t livabl.com
The fact that the BoC hinted at more hikes shows that mortgages will be even harder to acquire in the future than at the moment. But even Canadians with
mortgages
have lending troubles of their own.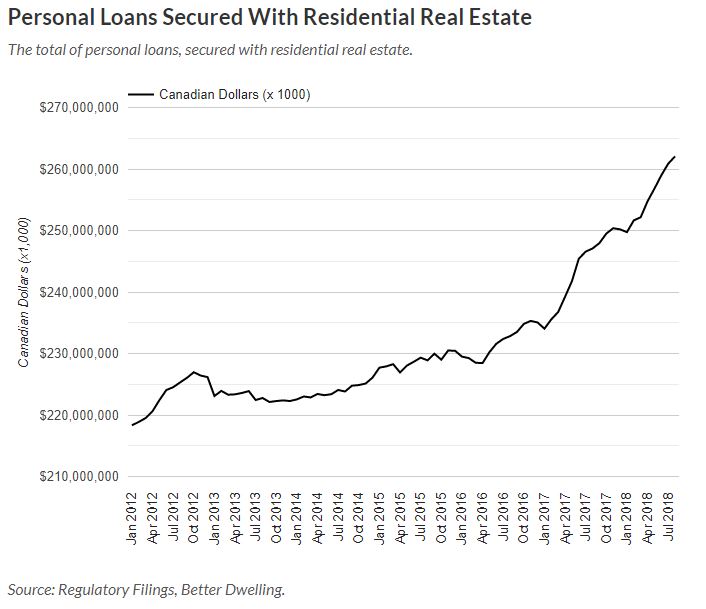 Even with price growth slowing and interest rates increasing, Canadians continue to borrow against their homes in record amounts, adding to the debt problem many already have:
Canadians Withdrawing Home Equity Is Accelerating... Again

The total amount of debt secured with residential real estate reached a new record. The outstanding balance hit $290.98 billion in August, up $1.29 billion from the month before. The annual pace of growth reached 4.42%, nearly 2 points higher than it was last month. Let's break this down to see where the growth is coming from.

The balance of personal loans secured by real estate reached a new all-time high. The outstanding balance reached $262.05 billion in August, up $1.2 billion from the month before. The annual pace of growth reached 6.06%, which is actually pretty close to the same pace of growth we saw last year. Psh… and you thought Canadians might be have slowed down on the credit binge. Via betterdwelling.com
It's important to note that these are personal loans, meaning that they're for consumption rather than business. This puts homeowners in a tough position when the market corrects.