Are you looking for a home that is well built and well maintained? Are you wanting it to have 3 bedrooms upstairs? How about a front attached double garage? North of the bridge? Well, I have the PERFECT home for you! :)
It really is perfect for a lot of people: a young couple, young family, family with multiple children, single person, empty nesters. And if you have carloads of kids, then you could develop the basement!
And you won't want to delay as this one won't last long!
Let me tell you about this beautiful new listing I have listed just 6 days ago (you can see photos below). Here's the fantastic video we produced to show how special this home really is:
157 Pitcher Crescent is a
2-storey home
that was built in 2008 by Qualico Homes, a well-known, good-quality builder in Fort McMurray. Even though it
was built in 2008
, as almost every home in this city, the
homeowners
moved into the home in 2009. This home, however, looks much newer because the sellers have taken excellent care of it! (Really you would guess it was built only a few years ago!) The
sellers
are the original owners, which shows that the home is a good home.
This beautiful home has 3 bedrooms and 2 full bathrooms and 1 half bathroom. It is 1,715sqft on the top 2 levels (doesn't include the basement) and the lot is a good size: 4,846sqft.
Pitcher Crescent is located in the new part of Timberlea, on your way into Parson's Creek North. It is off Mayflower which is off Heritage Drive. It is near the main road, but doesn't back or front onto the main road, making it convenient, but quiet. Not much traffic goes by this home, which can be nice if you have kids who like to play in the front yard (or pets!).
There is plenty of room for parking on the front driveway and if you drive by this home, you will see that the owners take excellent care of it - you can tell by how well they shovel the driveway and pathways.
With a double attached garage (which has access to the house), you will be able to keep the snow off your vehicle and you won't have to worry about scraping the windshield before work. You can use the garage as storage, a place to work on vehicles or other projects, or you can use it as a hang-out spot. So versatile!
Inside the main door, the ceiling is vaulted, making the home feel grand and yet inviting. There is a lot of natural light throughout the home and this is also the case in the foyer.
The main floor features hardwood flooring and ceramic tile flooring, which sticks with the theme of quality. The very large kitchen and living room are the first things you see upon entering the main floor of the home. The open concept feel is very desirable and functional.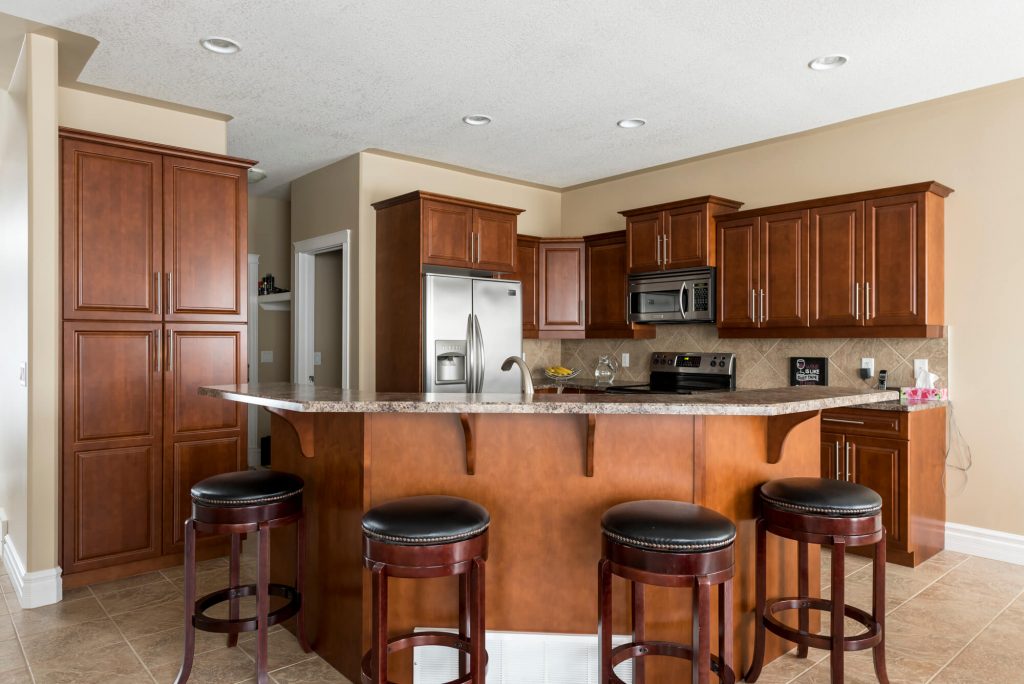 One of my favourite features of the home is the amazing kitchen. The kitchen features stainless steel appliances, very large island with breakfast bar, plenty of cabinetry including pantry-style cabinets and a dining area off to the side. On the other side of the kitchen (on route to the garage), you will find a half bathroom and the laundry room which also has space for storage.
The living room is also spectacular! There are long windows on both sides of the living room, which lets in the sunshine at different parts of the day. The gas fireplace makes it feel cozy in the winter. The hardwood floors are a warm brown which is modern and goes with really any colour of furniture.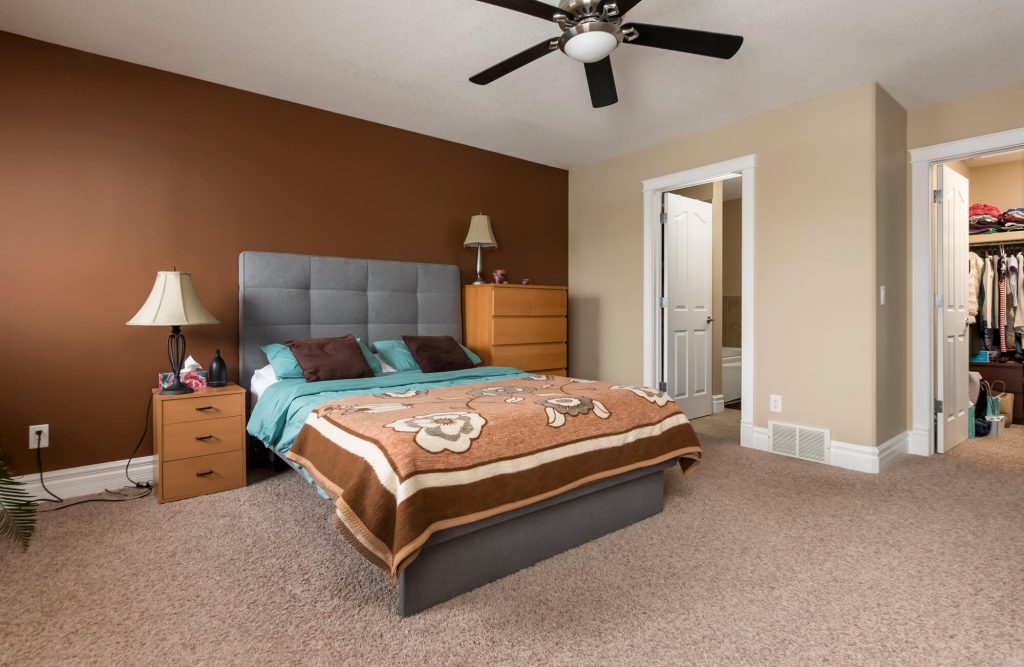 Upstairs you will find 3 bedrooms, one of which is the large master bedroom. The master has room for a sitting area (or maybe a work-out area?) as well as a large walk-in closet and an ensuite bathroom. The ensuite features dual sinks, jet tub, and stand-alone shower.
The other 2 bedrooms upstairs are also spacious with views of the backyard. The carpet is in great shape. There is also the main bathroom next to the bedrooms with a full bathtub.
One of the reasons I think this home is so versatile is because the basement is undeveloped. This allows a buyer to add value later by developing the basement when they need it or have the funds to do so. It enables you to get it for less money today.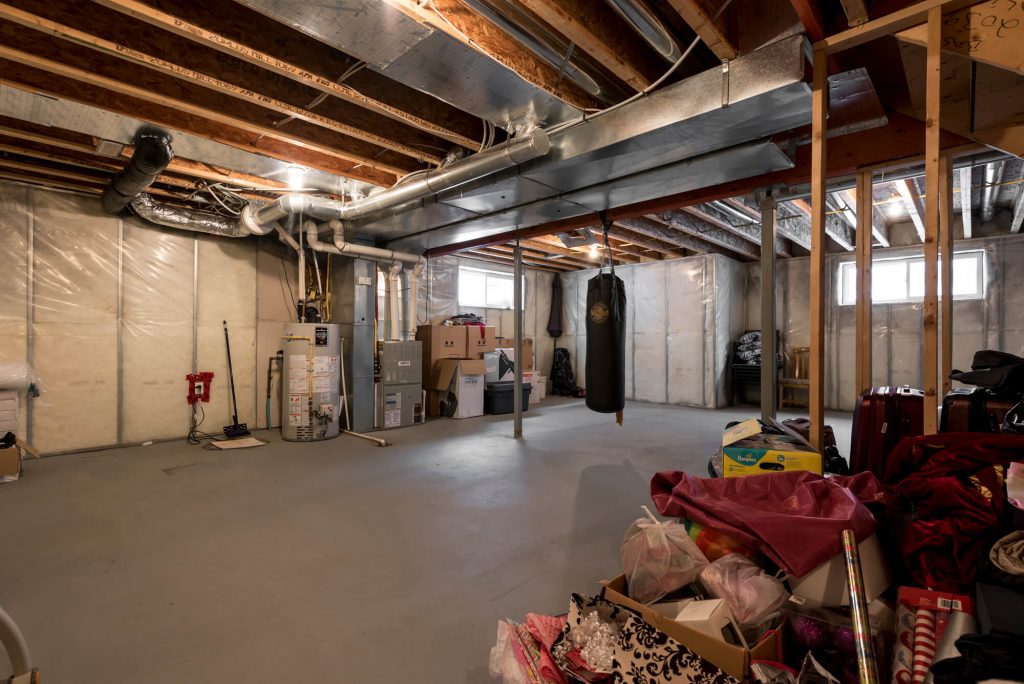 With the basement being undeveloped, it means you can make it into whatever you want… It is already roughed in for a bathroom and has 2 windows which would both work for bedrooms. You could make it into a space for your family or guests, or you could develop it into a suite. There are so many options!
The way it is now, the basement works perfectly for storage space and room for kids to run around. One of my best friends has opted to leave her basement undeveloped while her kids are small so they don't destroy her basement. :) You could also use it as a TV room or exercise space in the meantime!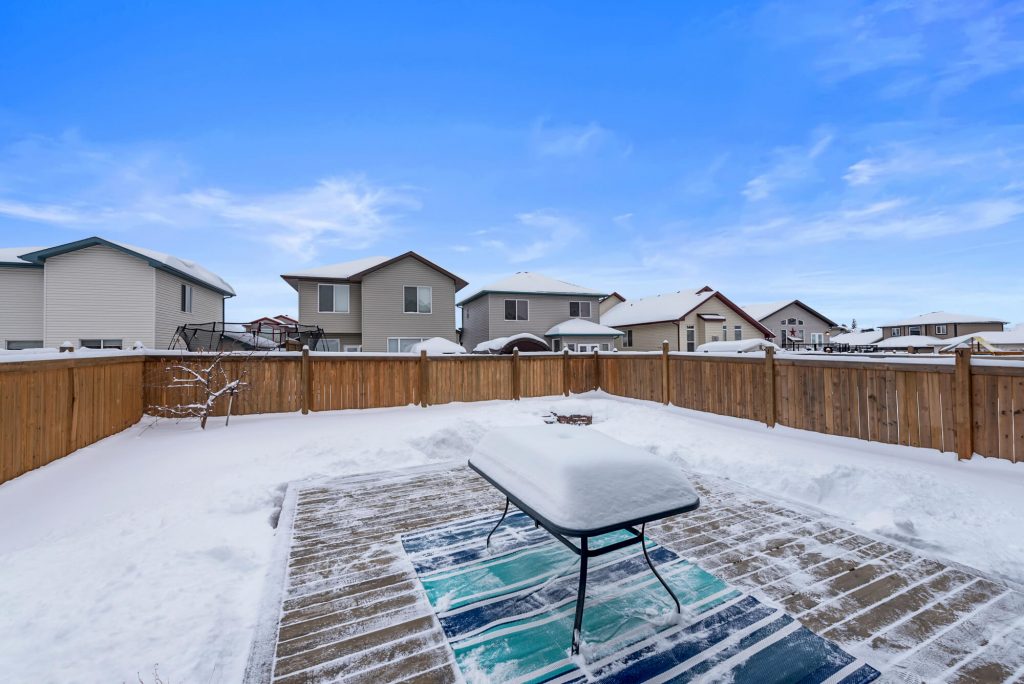 The backyard of this home is great for many uses! It is fully landscaped and almost fully fenced (just missing a side gate). There is a lovely large deck which is perfect for summer BBQs! The sellers have added paving stones which lead to the fire pit - again, perfect for those long summer nights in Fort McMurray!
This special, well-maintained home is listed for only $609,900 and it has already been a busy listing! I highly recommend you see it for yourself to see the quality and excellent layout first-hand. If you are not already working with a qualified REALTOR®, then feel free to contact us to book your showing today! You can call or text me at 780-804-4800 or you can message us on our website, or on our Facebook page.
I look forward to meeting you and showing you around 157 Pitcher Cres! Maybe you will be the lucky new owner? :)
Check out the full listing here.