It's time for the pre-Halloween edition of the A-Team's Fort McMurray column. Here is some important news for this week.
Last weekend, an application for a new oilsands project in Meadow Creek West was filed. If approved, Suncor Energy would be allowed to build the plant south of Fort McMurray, and would produce 40,000 barrels per day. Information is still scarce, but it looks set to use state-of-the-art drainage and conservation technology  From Fort McMurray Today:
Suncor files for 40,000-bpd project south of Anzac

Many specific details of the project are also still being determined and finalized.

Employment projections are not available on Suncor's website, although the company promises "nearby communities" will benefit from employment, economic growth and contracting opportunities, revenue and community investment.

A conservation and reclamation plan has also yet to be made, although conceptual reclamation plans are outlined in the applications.

The company says it will research and develop new technologies to reduce the amount of water used and hasten reclamation times for disturbed lands. Read more at fortmcmurraytoday.com
Coming off a rocky few years, the multiple oilsands projects in the works will hopefully re-energize the region and lower unemployment.
In other news, the Anti-Bullying Show is back for another year in Fort McMurray for an eighth consecutive year. The show, created by local Massey Whiteknife, will feature live entertainment and a costume contest:
8th Annual Anti-Bullying Variety Show Back For Another Year

Whiteknife adds that it's important to stand up and not stand by.

"Just want to raise awareness that bullying affects everyone in some form or fashion and we need to not judge or pass judgement just based on the way they look and get to know people before we make all these assumptions because it really does affect a person."

All proceeds will go toward the Fernando Foundation for Mental Health – which uses artistic means, visual, performance, written or other forms to help break the stigma of bullying. Via mix1037fm.com
Bullying is a major issue in all communities and any interest in solving it should be applauded. The show will be held October 28 at Stonebridge Hotel.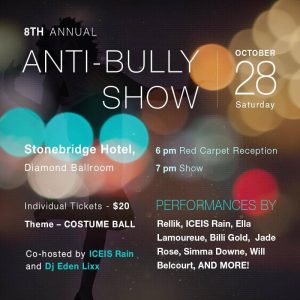 Lastly, Alberta Education announced a new school curriculum on Tuesday that includes lessons about the history of First Nations, Metis, Inuit Culture and legacy of residential schools. The changes reflect a different attitude when it comes to reconciliation with Indigenous peoples, according to Jenna Hamilton of My McMurray:
Students at every grade level to learn about First Nations, Metis and Inuit culture

Including Indigenous history in classroom curriculum is part of the Government of Alberta's (GOA) commitment to the Truth and Reconciliation Commission.

"We are making important progress in our journey towards reconciliation and a shared understanding. Now is a time like no other in Alberta history. We have the opportunity and responsibility to teach the truth and to provide an accurate account of our Canadian society," said Tony Alexis, chief of Alexis Nakota Sioux Nation.

"These new resources will shed light on our painfully dark history, and like our TRC commission reminds us, there cannot be reconciliation without truth. Announcements like todays are significant pathways to strengthening relationships with Indigenous communities." h/t mymcmurray.com
The issue of residential schools has rarely been touched upon in the country's schools. The lessons are to be taught to grades 1-9 across the province.
That's all for this weeks' roundup. Check back on The A-Team blog for more news and updates on Fort McMurray.