Fort McMurray Activities
I love when people ask me "Yeah, but what is there to do in Fort McMurray?". :) I love it because I get excited telling them about all of the amazing things there are to do here! It doesn't matter if you're into sports or the outdoors or if you like staying inside, there are so many options!
There are a lot of fun places to go in town, but my top 5 activities are: #1: Mr.E's Solve It Torium #2: MacDonald Island #3: Color Me Mine #4: Birchwood Trails #5: Famoso at the airport
#1 Mr.E's Solve It Torium
Mr.E's Solve It Torium
: Puzzle rooms (or escape rooms) seem to be the new exciting thing to do in many different cities across the country! Have you been to Mr.E's Solve It Torium in Fort McMurray? It is a really fun time, great for the whole family! They have 3 rooms that you can go through with groups of 2-8 people. Cost is $28/person (or $25 per person if you play 2 rooms) and can easily be booked online through their Facebook page (not much notice is usually required). They are located downtown above Borealis Pet Centre.
Tom and I have gone through 2 of the 3 rooms so far with my parents who were in from out of town and we are super excited to try the third room! It is a really fun hour where you get to work together with friends and/or family to solve puzzles and "get out" of the room! The great thing about this company is that they have "magic" meaning something will happen in part of the room when you do something in another part of the room….very cool! (You have to see it for yourself!) Another thing that I really enjoy about it is that they want you to finish and solve the puzzles, so they will help you out with clues if you need help. It is very rewarding when you leave the room victorious!
#2 MacDonald Island
I think most people in town have been to
MacDonald Island
(downtown), but I have to say we are very fortunate to have such an incredible, world-class facility! One of my favourite things to do there is sit in the hot tubs or take an aquacise class, but my husband is in love with the rock climbing wall! Did you know they also have squash and a 2-storey library? We used to curl in the curling rinks there, too and they have an ice skating/hockey rink as well as a smaller rink for beginners. The outdoor ice rink in winter under the aurora lights next to the football field is also beautiful. Oh, and did you know that in the summer, Shell Place (same complex, just the new addition) is home to the baseball games? And you can attend fun events like Monster Trucks (yep, we went last year) and concerts?! Seriously, this facility is incredible! There are also drop-in sports like badminton on a weekly basis, but we tend to rent the turf field to play indoor soccer or flag football.
Oh yeah, and the bubble balls (YES bubble balls!) are a real hoot - you have to try them!
#3 Color Me Mine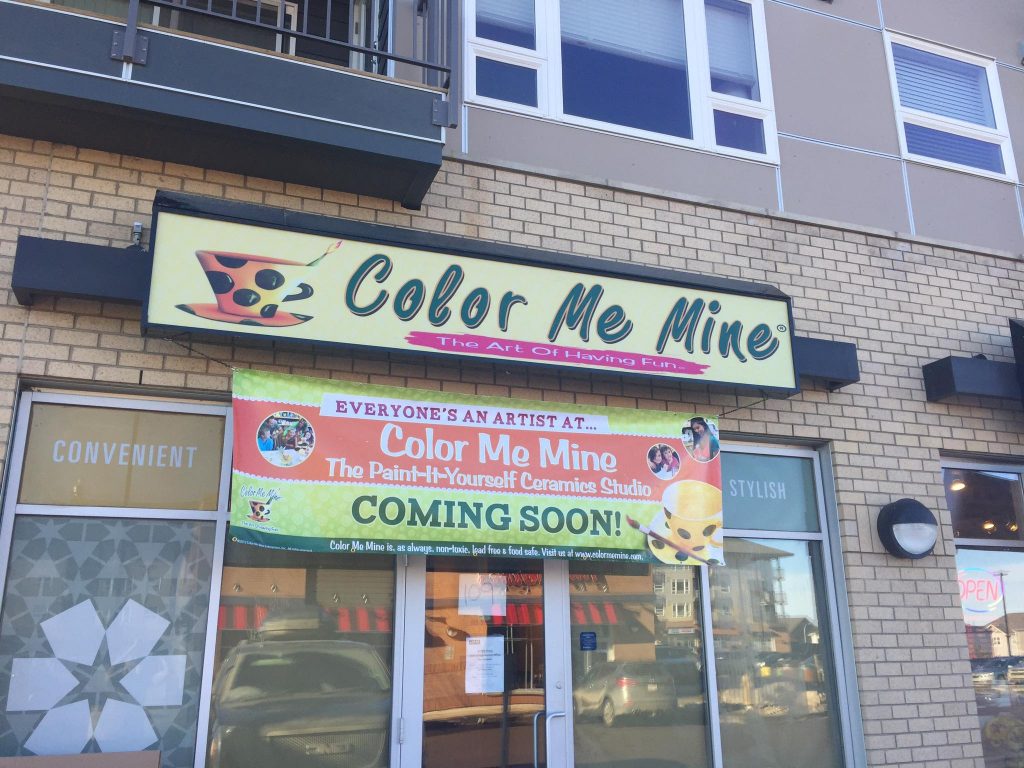 I think this is such a cool idea. We don't have a lot of places in town where we can use our artistic side, so I love that the owners brought this neat store to Fort McMurray. It really is for all skill levels! It is located in Eagle Ridge next to the Tim Hortons which is perfect if you want to grab a tea or coffee before heading over to do some art. What I love about it is that you can choose anything off their shelves to paint (prices range from low to high and my favourite are the things that have use, like dog dishes or soap dispensers), then they keep them to fire them (makes the colours shine and makes it look really professional) and you pick them up! They look just like something you buy from the store, only you can choose your own colours and designs to match your home or room! This is also really fun with your children. (There is another form of art there that I haven't done yet, something about melting glass pieces together…this also sounds fun!)
What I love about this place is that they have activity nights and you can hold parties there! The owners sometimes have fundraising nights to raise money for charities and you can buy gift certificates for your favourite people! I strongly recommend you try it out, even if you aren't much of an artist (I sure am not!) as I found it to be very relaxing and rewarding because you get a beautiful masterpiece at the end of it. So nice to see businesses like this in our city!
#4 Birchwood Trails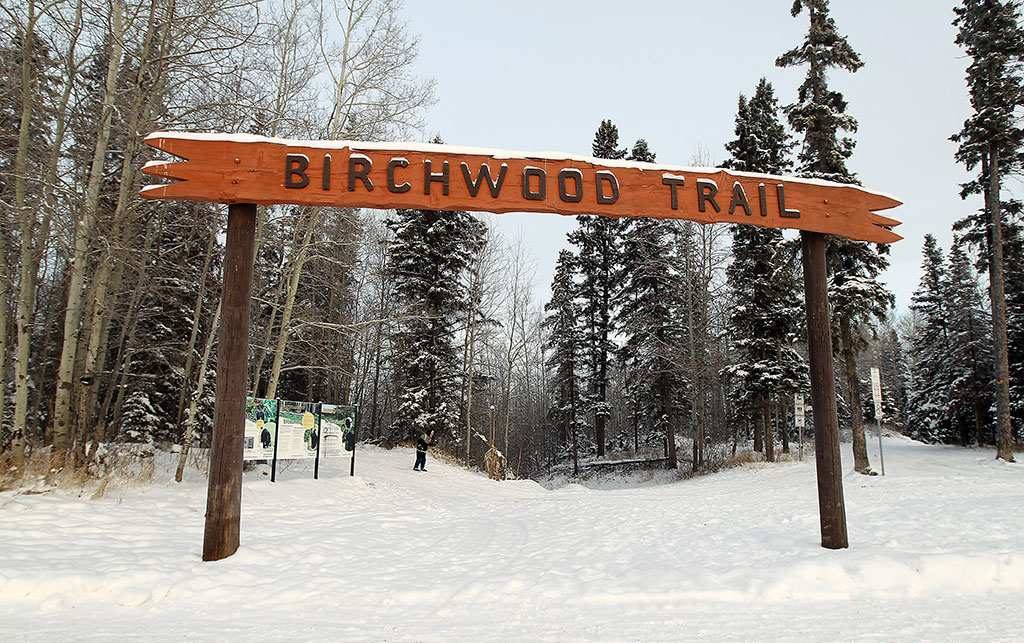 Again this is one that likely a lot of people have already been to, but I still meet people who haven't been so I need to tell you all how amazing the trails are! Seriously beautiful - it feels like you aren't even in the city! The Birchwood Trails are located inside the "c" shape that attaches Timberlea and Eagle Ridge to Thickwood and Dickinsfield. This is what Tourism Fort McMurray says about them:
"The Birchwood Trails are located in the Con Creek valley between Thickwood, Dickensfield, Timberlea, and offer great opportunities for walking, running and cross-country skiing in the winter months. With the outdoor gym conveniently running along the outside of Birchwood Trail, you can incorporate a complete fitness routine. The equipment is set up in a dozen stations running from Cornwall Road, to behind the Birchwood field, and ending at Woodland Drive."
My favourite thing to do in the Birchwood trails is walking with our dog in the summer months (especially down in the middle where the stream runs) and cross-country skiing in the winter months (the
Ptarmigan Nordic Ski Club
grooms the trails). They are just stunning and when my husband and I go in the trails, we feel relaxed and recharged. Our dog loves all the smells in the trails and we feel so lucky to have such amazing wilderness right out our back door!
#5 Famoso Restaurant at the Airport
My husband and I love pizza and he thinks that
Famoso
is the closest pizza in Canada to Pizza in Italy! We love to go out to the airport for our date nights and enjoy pizza and gelato. (Did you know that you get to park for free when you buy food there?) Tom loves the tomato basil soup and the dessert pizza with banana is one of my favourite desserts! They have so many different pizzas to try that you will always have something new to look forward to! The drinks are delicious, too. I love the chai tea lattes, but their Italian sodas are a close second. Yummy, I'm getting hungry just writing this! If you haven't tried Famoso, then I strongly recommend you go. Apparently, they have breakfast now, too, but I haven't had to chance to try it out yet. Oh yes, and the servers are excellent - some of them recognize us from going out so much, but they are all very nice and we always get great service.
I am excited to see what the new movie theatre in Eagle Ridge is going to look like...this might very well be added to my list of top 5 activities, so I can't wait for it to open!
What are your favourite spots in town? Is there someplace that you always take your guests when they come into town? I'd love to hear about them, feel free to share with us!
Enjoy our amazing city and see you around! :)