The A-Team Client Appreciation Event!
We are so excited to celebrate our appreciation for our clients! Giving back to those who are our supporters, who trust us with the biggest purchase or with the biggest sale of their lives is huge!
We are grateful for the trust they have in us, for the referrals they give us and for that we want to give back in a huge way!
We are fortunate to help people move on with their lives, no longer be in a state of limbo and with this, we are also able to point people in a direction which they need to help them through the process of buying or selling their home.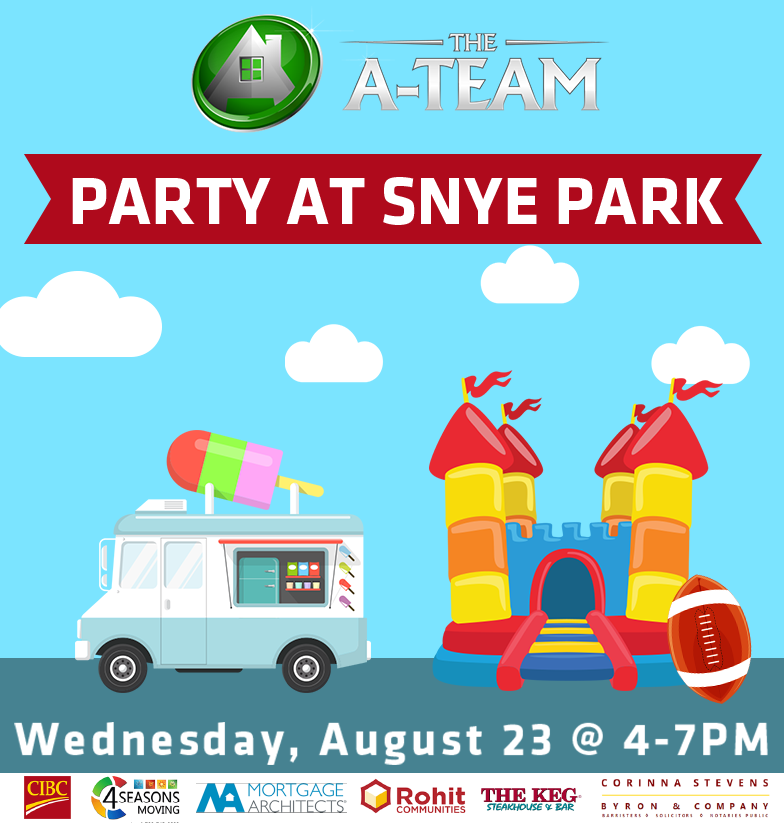 WE are grateful for the support of our event to have the following businesses help us out to make The ATeam Client Appreciation Event amazing: CIBC Mobile Mortgage Advisor Jennifer Aulenbach - Gold Sponsor, 4 Seasons Moving – Gold Sponsor, Mortgage Architects Barb Pinsent– Silver Sponsor, Rohit Communities, The Keg Steakhouse & Bar, Byron & Company – Corinna Stevens.
The event is from 4 – 7 pm at the beautiful Snye Park! Family friendly and a ton of fun….from a delicious BBQ put on by our Sponsor 4 Seasons Moving, a delicious Candy Bar, Snacks and the Batman Bouncy Castle put on by our Sponsor Jennifer Aulenbach, CIBC Mortgage Advisor, the drinks sponsored by Barb Pinsent Mortgage Architects, Rohit Communities for the Tent, tables and chairs, The Keg for their delicious sliders and Corinna Stevens from Byron & Company for the games!
Dan Tulk a local performer will be at the event entertaining us with his amazing voice!
3 hours of food, fun and interacting with amazing people!
We will have a face painter on site for children to get their faces painted! The games will include: Adult & Children Sac Races 3 legged Races, Bean Bag Toss, Volleyball, Don't drop the egg races, and Croquet!
The Batman Bouncy Castle will be a ton of fun even the adults will want to explore! We look forward to seeing you there on August 23rd from 4 – 7 pm!