After a long career in real estate, Paul Cairns retired from The A-Team at the beginning of the month. On Monday, he left to enjoy his retirement in peace, on the Isle of Islay in Scotland, with his beloved Dorothy. We are thrilled to bits for Paul and his family.
He will be running a vacation rental property there and will spend time guiding Christians in their faith. He'll also be playing plenty of golf and enjoying the odd whiskey I'm sure (there are numerous Scotch distilleries on this island).
He welcomes you to join him at his vacation rental by the way; I know how much he would love for you to book a week in his paradise.
Over the coming months, Paul's RE/MAX® page, LinkedIn and other professional online profiles will slowly disappear from "The Google", and only this blog post will remain. So it is with a profound responsibility that I sit down to write this piece.
What can I say about Paul's career?
The Kindest Heart
"For what shall it profit a man, if he shall gain the whole world, and lose his own soul?" - Mark 8:36
Every time I meet Paul, I feel a deeper love for him. He lives a selfless, giving life. He cares only about the people around him. He shepherds people through life in one way or another. It doesn't matter your race or creed; he will find a way. This is who he is, and he has the 64-year-old confidence to be exactly himself. Only, I have a certain feeling that he has always been this way.
He helps you in ways that you don't even notice; in ways you can't really comprehend. That's how intelligent he is. Having the honour of working with Paul and becoming his friend, I have come to realize how much it means to me to have a figure like him in my life.
Old Dog. New Tricks.
In June of 2015, the market had taken a huge turn for the worse, and instead of being a victim of the world, Paul clubbed together with us to help us, but also to renew his business. Where I come from (Yorkshire, England), we would say that he had the "nouse" (head) to make a paradigm shift in his business, while others in the same boat might have continued to struggle.
He joined our cutting-edge team at the age of sixty-two.
He fought to learn, and toiled day in, day out. He took the time to impart on us his wisdom as he went. I have never met someone with such an amazing capacity for change.
Reputation
"A good name is to be chosen rather than great riches" -Proverbs 22:1
Most people reading this will have known Paul for far longer than I have, and I'd be surprised if anyone had anything negative to say about him.
It's hard to find someone with a better reputation in his career or his life than Paul Cairns. In Yorkshire, we would say that he "calls a spade a spade" (he is honest). People like Paul fit in extremely well in Fort McMurray, as well as in real estate, so it's no wonder he had a long and successful career helping people buy and sell homes here and made close friends along the way.
Humble
Paul doesn't hide his light under a bushel when it comes to faith, but he certainly does when it comes to his skills and talents. He spends his time building others up: his clients, his colleagues, and his competitors.
In our last meeting, he took time to read a prepared speech to the rest of The A-Team. We are a younger bunch, full of energy and passion, but we are lacking in other ways. The manner in which he helped us with his speech, laden with bible quotes (repeated earlier in this post), was so fitting.
He didn't just give us the full light of his wisdom, but he showed us how to improve the way we do business and the way we live. His lessons were about the importance of relationships, looking after yourself, reputation, being open to change, and doing what you're good at.
He chose to use the opportunity of the last moment of his career to help us.
It wasn't about him at all.
By the end, we were teary-eyed and speechless. In a private moment afterward, what Breanna said to me, summed it up:
"He is so good. I just want to be more like him." - Breanna Albrecht
Paul fit into The A-Team like a hand into a glove. We share some pretty critical common values.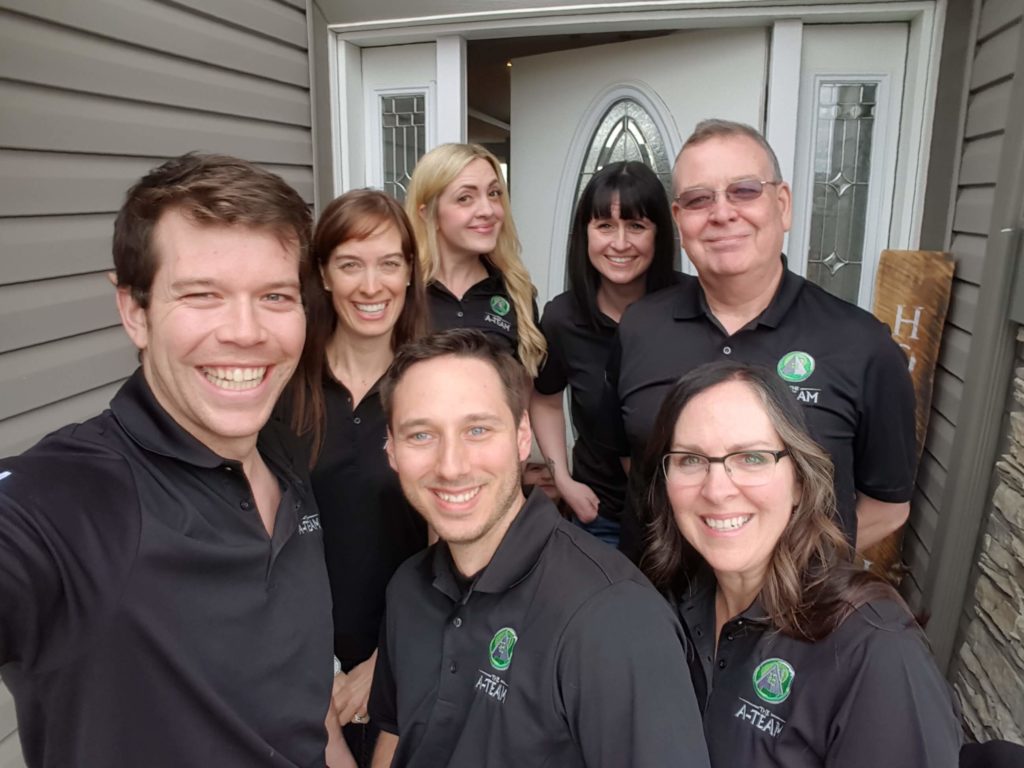 But he also changed us.
When he came to us, we were basically a start-up, using social media, drones, and video to shake up our industry. We still have that culture, but it's softer somehow. He showed us how to be good REALTORS® - people who could network, and build relationships that could survive the trials of daily life. Paul's spirit and kindness have filtered deep down into the roots of our business, and we will always strive to be more like him, at work and at home.
Paul's Life's Work
A REALTOR®'s life's work is a long line of smiling faces. It's about growing, happy families, loving life and living life in their homes. Paul loves every one of his clients, and he loved his job. If you are Paul's client or friend, you are an important part of his life's work.
Even deeper than the responsibility of writing this post honouring Paul, we now have the responsibility of looking after his clients.
Over the coming months, we will try to reach out to all of Paul's clients, but he helped a lot of people over 20 years, so we'll surely miss some. If you are Paul's client and you're reading this, please don't hesitate to get in touch with us to connect so we can welcome you into our fold and help you when you need it. We will be in touch with Paul regularly and we plan to visit him every year or three, so we can keep you posted on his awesome retirement with Dorothy!
If you'd like to get in touch with Paul directly to keep in touch, he would love that. His email address is pbcairns@gmail.com. He would love you to visit him in his paradise, even more.
And finally to Paul: Congratulations, Paul. You deserve every happiness. We love you and you have all of our respect. Can't wait to see you on the Isle of Islay! Thank you for everything. :)