No, I'm not here to "convince" you to buy a wood foundation home. But I will ask you to keep an open mind until you've heard me out...
There are tons of horror stories about wood foundation homes. So much so that, of all the people I help purchase homes, I'd say over half will not consider them (regardless of my input).
Are some of these horror stories true? Yes
Should you rule out wood foundation homes altogether? That's up to you. But, I certainly don't rule them out in my own personal life.
What Is a Wood Foundation Home?
The technical term for these homes is "Preserved Wood Foundation" or PWF for short.
Here is a diagram from Wood Preservation Canada that will give you a really good idea of what a PWF is: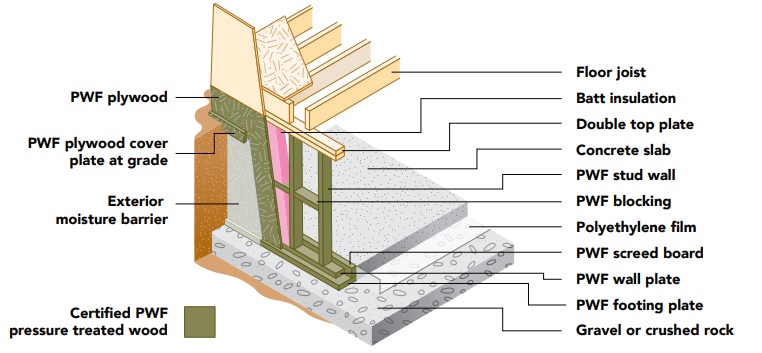 In layman's terms, the basement walls are made of pressure treated lumber, but not the floor (that's made of concrete). This is easily the most common design for PWFs in Fort McMurray.
The amazingly informative pamphlet that this diagram came from can be downloaded from Wood Preservation Canada here and we highly recommend you give it a read if you are serious about purchasing or selling a wood foundation home.
How Many PWF Homes are There in Fort Mac?
I have no idea, but let's try to estimate!
We know that there are approximately 26,000 dwellings in Fort McMurray, of which about 15,000 are single family homes.
In the last 6 years 4,664 single family homes have changed hands through the MLS®.
Of these, 149 had wood foundations. That's 3.2% of the total stock.
Based on these numbers we can guesstimate that there are approximately 480 PWF single family homes out there, as well as a smattering of PWF duplexes. So, something like 500 homes.
Where Are the PWF Homes in Fort McMurray?
693 PWF listings have actually sold in the history of the Fort McMurray MLS® (homes don't just sell once!)
These sold listings give us a nice picture of where the PWFs are in Fort McMurray:

As you can see from the table, the majority of PWFs can be found in the three neighbourhoods of Thickwood, Old Timberlea and Dickinsfield. The part of Abasand that was built 2000-2006 also has a significant number, as well as Saprae Creek.
Let's look at those top three neighbourhoods more closely: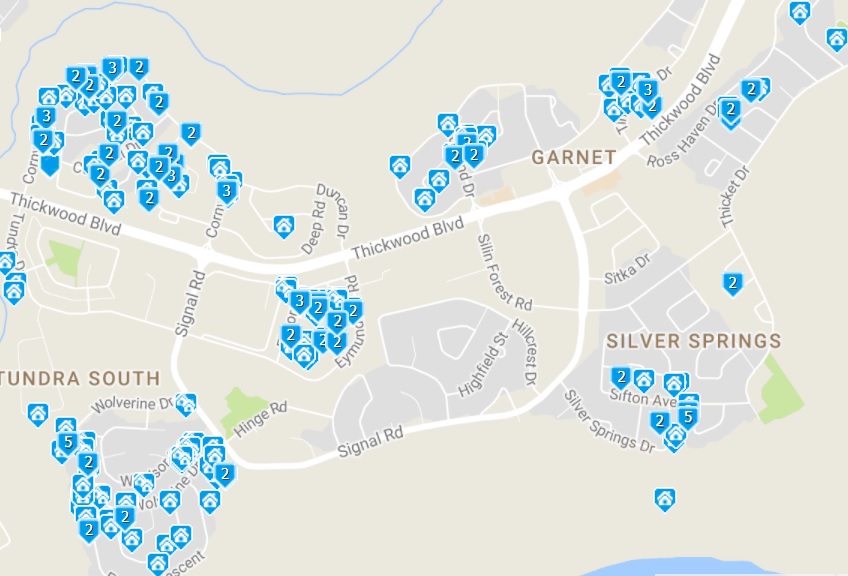 As you can see the greatest concentrations of PWFs are in some of the most popular areas. Namely: Old Timberlea, Dickinsfield and the area of Thickwood found inside Cornwall Drive. In fact, those areas contain 394 of all the PWF listings ever sold through the MLS®.
3,666 dwellings of all foundation types have sold in those areas through the MLS®. By dividing 394 by 3,666 we estimate that approximately 11% of homes in those neighbourhood subsections have wood foundations.
Benefits of Wood Foundations
Some of these benefits are commonly known, some less so:
Warmer
More comfortable
Will not crack (unlike concrete)
Possibly cheaper to build
Cheaper to buy
Adaptable
Easily my favourite one of these benefits is that they are cheaper.
Depending on other features of the home, generally, wood foundation homes can be purchased for approximately $40,000 to $50,000 less than a comparable concrete foundation home. In some cases (for example, luxury homes) this number can be much larger.
This means that you will have smaller mortgage payments over your period of ownership, and that, for me as a buyer's agent, is huge.
Risks/Drawbacks
If water sits on a wood foundation for years and years, they can bow inwards, and eventually, they may need to be strengthened or replaced. This can be extremely costly, especially if it involves renovating downstairs kitchens and bathrooms as a result. The most common numbers we have heard are from $5,000 to $30,000 but that's not a limit, just an average, and of course, this would depend on the house and the market for skilled trades at the time.
When the time comes to sell, you will have to appropriately discount your home for the foundation type. This is because, even with proper education, only about 50% of buyers are willing to consider purchasing a PWF. That's a reality you can't get around. Less demand means lower prices. End of story.
Due Diligence Before Buying & Taking Care Afterwards
Here are some hints and tips when buying:
Number ONE is to insist on a PWF Certificate from an engineer
Have a property inspection with an expert like Brian Slaney 
Perform your own visual inspection to look for bowing and water management
Look into the history of the property at the RMWB planning and development office
Ask the neighbours what they know
Have a professional buyer's agent price the house for you and negotiate to ensure that you don't overpay. This will enable to you to sell the home for a discount in the future without losing any of your hard-earned money.
And some ideas for once you are an owner:
Number ONE is water management. According to engineers and home inspectors, this is THE KEY to a long-lasting, healthy PWF. I vaguely remember reading somewhere that a dry wood foundation is expected to last 119 years (I can't find the source though, so don't quote me!)
Save your money. Wood foundation issues are not an insurable risk, so a financial advisor may advise you to "self-insure" by putting money to one side in case you need it one day.
Keep in regular contact with an engineer with experience certifying PWFs.
Keep your home beautiful. Homes struggle to sell if they have more than one feature that can hinder demand. Therefore, make sure your house is AMAZINGLY kept up. We have sold PWF homes in days, and we plan on doing it again.
When it Comes Time To Sell...
As you prepare for your listing, there are important elements to take care of. One of the first steps is the contacting an engineer with experience certifying PWFs. We can refer you to one if you like. This is an important early step, as there are often smaller items to be taken care of before they will certify your home (for example grading...get your shovel ready!) Some of this work can only easily be done outside the winter months.
Another thing to do is to get in touch with a team of superstar listing agents who have experience in selling lots of homes, and selling lots of PWFs specifically. As you can see from this blog, we have the required knowledge to sell these homes. We will give you an accurate price for your home before you draw too many of your own conclusions regarding the value of your home. This way our specialist can get you the absolute top dollar, but also sell your home in a timely manner.