The A-Team is the #1 Team at
Phase 1: Tom Falls Flat on His Face
It was 2012 and homes were supposed to sell themselves!
We dug out Tom's old business card so you can see his shortcomings. You see, no matter how hard he tried (he did work hard), he couldn't sell homes. He tried everything, and almost nothing worked.
People responded well to his honesty, and he has always had happy buyer clients who continue to refer him to their close friends.
Trying to help both sellers and buyers was a problem for Tom.
Phase 2: Breanna Saves the Day
Tom went on a trip to Calgary to find a wife and boy did he find a good one! Breanna was sitting on a fence, eating a candy apple, when Tom asked for a bite… and they fell in love, got married and are, so far, living happily ever after. True story.
Breanna had an amazing position at Imperial Oil which she gave up so she could obtain her real estate licence and move to Fort McMurray. They bought a house, and on April 10th, 2014, they launched their husband and wife team.
Two months later, the oil price began falling.
Phase 3: "You and Me Vs. the World"
Those early days were pretty "cowboy": On the marketing side, Tom & Breanna were some of the first agents in Canada to start using a drone for aerial photography/videography. Enjoy their cheesy first production here.
They came up with some principles to follow when designing how to best help people and they split the work up so they could be specialists who could deliver mind-blowing client care.
Tom's Master's in Economics from the University of Oxford, along with Breanna's degree in finance, allowed them to make their buyer and seller clients aware of the seriousness of the oil price collapse on the local real estate market.
Going to most of their appointments together, Breanna and Tom, totally in love, tried to bring smiles and some level of comfort to their clients, despite the tough news they had the responsibility of delivering, day in, day out.
The A-Team Today
Like the Fort McMurray of our future, The A-Team is now BIGGER, BETTER and STRONGER. Still led by Tom & Breanna, the team remains faithful to its early principles, the idea of specialization (3 listing agents, 3 buyer's agents) and obsessed with creating mind-blowing client experiences.
Agents are selected for their goodness, their drive, and their teachability (emphasis on goodness). Team members wake up every morning with the goal of delivering service far beyond your expectations, whether your goal is to sell your home for top dollar, in ANY market, or to find your dream home and secure it for the lowest possible price. That's what it means when they say:
Bringing Our "A" Game. Every Day.
Breanna Albrecht
Associate
Breanna was the #1 listing agent in Fort McMurray in 2016 (by a wide margin: 33%) and 2018 by number of sales. She lists properties for sale (and sells them!), but also has an important support role for the other dedicated A-Team listing agents, ensuring that all A-Team seller clients get exactly the same customer service excellence. Breanna co-founded the team with her husband, Tom, in 2014. She is passionate about helping her clients sell their home for top dollar, strong representation/negotiation, synchronized skating, snowboarding and of course, their dog, Matilda, and cat, Edgar. Breanna is from Regina, SK (GO RIDERS!) and holds a degree in Finance from the University of Regina.
Tom Albrecht
Associate
Tom was the #2 buyer's agent in Fort McMurray in 2016, and #1 in 2017, by number of sales. He helps buyers find the best homes, without wasting their time, and making sure that they don't overpay.  He has a support role for the other two buyer's Agents, but he has plenty of time for his primary focus: his many buyer clients. He is passionate about Fort McMurray, soccer, snowboarding, economics, and his wife, Breanna, Tom is originally from Yorkshire in the UK and holds a master's degree in Economics from the University of Oxford.
Denise Hildebrand
Associate
Denise Hildebrand: Buyer Agent Extraordinaire: Cool, calm and unflappable. If you're looking for someone to help you through a complicated process while ensuring it is 100% stress free, Denise is the agent you want by your side. Denise is all about securing an excellent price, and making sure you buy the right home FOR YOU. She is passionate about family, "Diner en Blanc" (which she brought to Fort McMurray and which continues to thrive) and her lake house. She is a total sweetheart, but she's all business when the time comes. Denise is originally from Newfoundland, but has spent the majority of her life as a prairie girl in Manitoba.
Erin Ogren
Associate
Dependable. Professional. Enter Erin Ogren, specialist listing agent who sells homes according to your timeline and for top dollar.  Separately, she is a Candidate Appraiser, which gives her advanced skills in pricing homes for her clients: She is The A-Team's valuation expert. Erin loves helping people achieve their goals. For Erin, handing over keys is rewarding but building lifelong relationships is what life is all about. Outside of work, she is passionate about her young family, her puppies, and spending time outdoors. Erin joined The A-Team with a wealth of experience: She was originally licensed in 2005 as an appraiser and 2007 as a REALTOR®.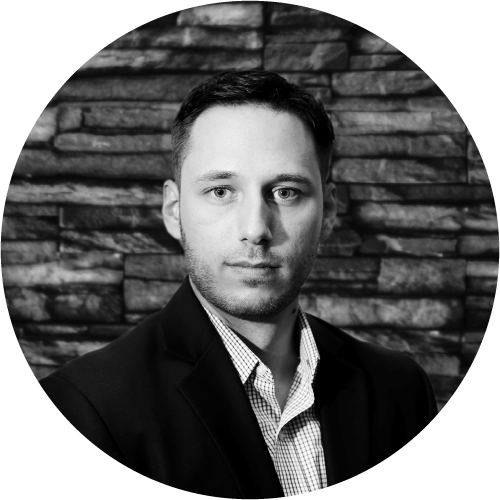 Aaron Chalmers
Associate
Aaron is a rising star listing agent. Extremely diligent and focused, Aaron has years of experience in Customer Service Management which gives him a powerful edge to use to satisfy his clients.  All he does is sell homes. Aaron is extremely capable, but one of his strongest assets is his skill behind the camera. He is passionate about his young family, his future and his clients' best interests. Aaron is more-or-less born and raised in Fort McMurray, and he has the can-do attitude to prove it. Did we mention his intense work ethic? It's incredible.
Heather McCandless
Associate
My role is is to find you the perfect home. I am a coach/adviser to my clients, and I am a strong advocate – never compromising on what it is that you want; never rushing you. I am literally obsessed with real estate (actual houses): I've always been fascinated with the real estate itself, and helps qualify me to be excellent at my job. I also love the energy of my role: There is nothing more rewarding than giving keys to my clients on possession day, having shepherded them through the whole process and taken away any stress wherever possible. My clients mean the world to me. I have seven years of experience and counting! Outside of work, I have an incredible family, and I love being part of the caring community of Fort McMurray.
Rita Sobkowich
Associate
After a 22 year career in real estate in Vancouver, Calgary and Fort McMurray, Rita found her calling as a specialist buyer's agent at The A-Team at RE/MAX® Fort McMurray. Rita's approach to helping clients hinges on two core values: honesty and hard work. Her role is simply to help give potential home buyers the best possible information so that they can make the best decisions for themselves and their families. Working in high-end custom home building, she learned hard work and detail orientation. Rita's purpose is clear: working to fulfill the needs of her clients and helping them secure the best homes after negotiating the best prices for them. In summary: Rita's priorities are to look after her clients' best interests and to ensure they have a stress-free experience.
Eric Dunham
Mortgage Specialist
Eric is not part of The A-Team at RE/MAX® Fort McMurray. He's a mortgage specialist and has been with RBC since 2006. Originally from Moncton, NB, he has called Fort McMurray home since 2008. He has supported The A-Team through an active partnership. Eric's pre-approvals process provides buyers with a solid foundation for shopping with confidence and allows them the opportunity to address any potential barriers in their goal of home ownership. Throughout the home buying process, he is efficient, reachable and easy to work with. Eric can be reached at 780-370-6663.