Diner en Blanc is an evening with friends, enjoying a delicious picnic under the stars.
Step back in time, put on your most elegant, classy "white" clothes and attend the event of the summer.
Diner en Blanc is held in 70 locations around the world, a sought-out event that revolves around a "secret" location.
On June 17th, one of Fort McMurray's most beautiful locations will be covered in a sea of white, friends of friends will be enjoying time spent together, while meeting new friends and sharing a meal together.
Diner en Blanc started in 1988, nearly 30 years ago. Francois Pasquier, a resident of Paris, had been travelling abroad for two years and wanted to meet up with his friends – he requested they meet him on a specific day, bringing with them a picnic basket filled with delicious food, a bottle of wine or champagne and a folding table and chairs to enjoy their meal upon. He requested his friends wear white so that everyone would know they were part of the guests at Francois' dinner party.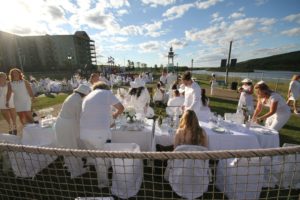 Today, we keep the tradition alive, but inviting friends who then invite friends who all wear white, and participate in the event by bringing with them their folding table & chairs, white linens to cover their tables, and of course white dishes, delicious food to enjoy and décor for their table.
There is a very magical….secret part to Diner en Blanc…the guests choose a departure point, they arrive and pack their belongings onto a coach bus, and then step onto the bus with no idea where the bus will take them. Their Table/Bus Leader then, while en route to the secret location, shares with them where the "secret" location is and the fun begins!
When they arrive at the secret location, they are greeted with a delicious glass of champagne! They then take their belongings to their designated location and begin to set up…some will bring everything with them, while others will head over to the e-store location to pick up their orders. Wine and/or champagne are the drink of the evening, no beer or hard liquor allowed – this is available on the e-store and will be picked up that evening.
Diner begins with the traditional waving of the napkin, while live entertainment plays, friends of friends enjoy their meal, meet new friends and gather together for a delightful evening under the stars. The dance floor opens at 8:30 pm with the lighting of sparklers and continues until 10:30pm. The last part to this magical evening is that you, the participant in the event, take everything home with you…and you leave the location as you found it.
Sound like fun? Not your regular gala or dinner party, but a great way to step back into time! Imagine yourself like Francois Pasquier, in Paris, seeing your friends gather together dressed in white, enjoying a meal, and dancing under the stars in one of your city's most beautiful locations.
-Denise Hildebrand