Ever-Changing Local Events
Fort McMurray is one of the 19 cities in Canada where you will find
Diner en Blanc
...its a pop up picnic full of fun, secrecy, magic, and friends!
Imagine not knowing where the event is being held until you arrive at your chosen location to meet your Group/Bus/Table Leader….while bringing your own dishes, cutlery etc., just as if you were joining friends for a picnic.
That is what Diner en Blanc is - a magical evening spent with friends of friends and meeting new friends all while enjoying a meal that you and your friends have prepared or have ordered off of Diner en Blanc's e-store (you pick up at the event). Sharing a glass of champagne, and or wine while listening to music, in one of our cities most beautiful locations - that is what Diner en Blanc is.
In 1988, Francois Pasquier held the first Diner en Blanc in Paris, he asked his friends to wear white, bring a picnic basket with food to share and to bring a friend he didn't know so that they could all enjoy a meal under the stars and meet new friends - this is now an annual event which has grown from Paris to over 86 countries...
A sea of white embarks upon a journey to an unknown destination some are dressed up as if part of a wedding while others are wearing their most extravagant white outfits from masks to wigs and more! White is the colour of the evening.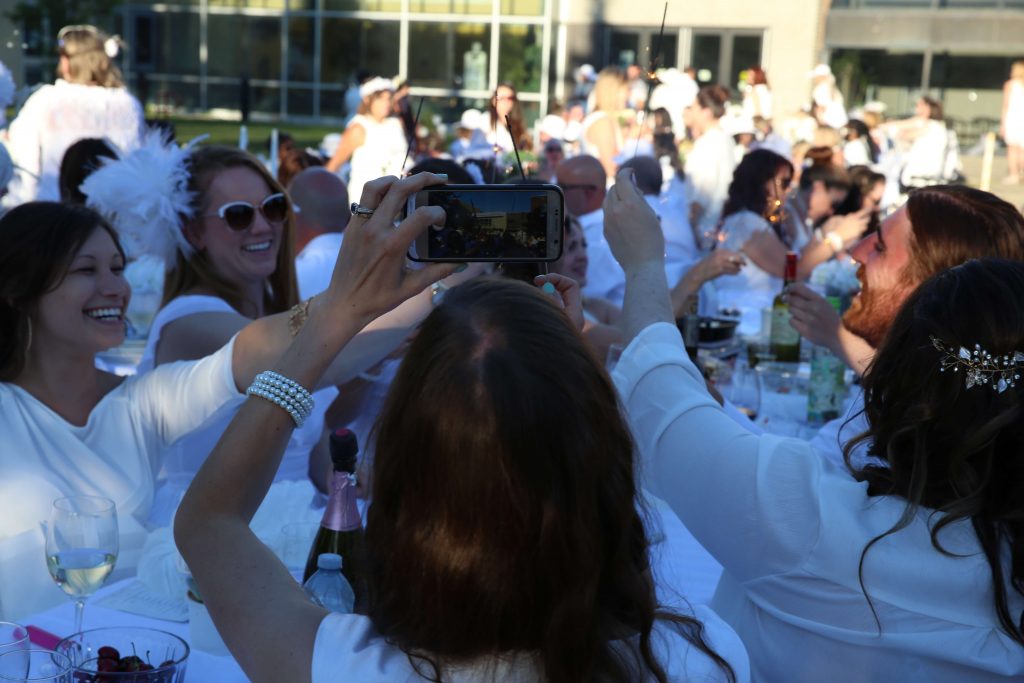 It's not your typical event - you participate, bring your own food, plates, cutlery and linens! You must though purchase your alcohol of the e-store as Alberta Liquor Laws prohibit bringing your own to the event.
Each year a different location is chosen, it is always a surprise when you arrive at your departure point...you could be the one pedestrian location a location only known by the hosts up to the event!
What makes us love Diner en Blanc? It is something different, from the standard show up and be entertained, to actually preparing, packing, and setting up your table and grouping your tables with friends, then of course meeting new friends it is fun, secretive and magical!
The entertainment changes from year to year always a surprise while seeking out local artists and focusing on our community!
Diner en Blanc Fort McMurray focuses on shopping local, friends of friends of friends the more the merrier and taking in all the beauty of the location.
We would love to see you there! To receive an invitation to register go to fortmcmurray.dinerenblanc.com and put your name on the waiting list it is updated throughout the day so all who want to attend are able to. The cost for two people to attend is $104.70
Looking forward to seeing you there!