Preparing for Type-A Selling
Okay, so the title of this blog is a little fun: Personality theory is a little 20th-century for us (we would rather not put people in boxes), but if you are someone who likes to excel at everything, enjoys detail, and you're about to list your home for sale
, well...
...this post is for you!
In a nutshell, this post is about:
How do you wow someone like me (a detail-oriented, professional buyer's agent) and/or my clients by preparing your home for sale?
Over the years, I've been in thousands of Fort McMurray homes, of which a few hundred have been presented impeccably (many of them being A-Team listings).
Once on the property, I sometimes get the sense that it's the work of the listing agent, and at other times, it seems client-led. Either way, these listings always make me think. Each time, I watch the reactions of my buyer client(s) and it's fascinating to watch: This stuff really sells.
It especially sells certain types of homes, and to certain types of people (people like us). But more on that later!
Today we're going to cover:
Little Stickies of Joy
Spotless & Staged
100% Maintained
Providing Additional Due Diligence Materials
We'll also refer you to a plan for showings, as well as a plan for keeping calm. Eek!
1) Little Stickies of Joy
By far the best way to make an impression (certainly on this real estate agent) is to prepare labels and use them wisely. Any size of label, up to letter size, will do. Fluorescent paper works best with black writing. Handwriting is better than typed for a more easily established emotional connection to the reader.
A good candidate for a sticky might be something that comes with the home that has value, or something with value that people might not otherwise understand. Examples might be a "Nest" thermostat, or an electronic air cleaner. Perhaps you leave the keys out and label them.
These might seem like small things, but it turns into a kind of grown-up Easter egg hunt. At the end, buyers are left with the impression that you care about them and that you have cared about your home.
You really can't have too many stickies. Be sure to make them tidy and appropriate though.
2) Spotless & Staged
In the past, we've talked about our cleaning checklist. It's cool, so print it off and get cracking, but today's guide is for the "Type-A" seller client...
First off: Have the ducts cleaned by professionals.
Clean your home as if you're cleaning a hospital (without making it smell like one). That means that no buyer should be able to find any specs of dust or dirt. Even clean inside your appliances. Make it so that even your mom would be impressed. Want an even more sparkly result? Hire a professional cleaner, or your mom, then finish the job yourself!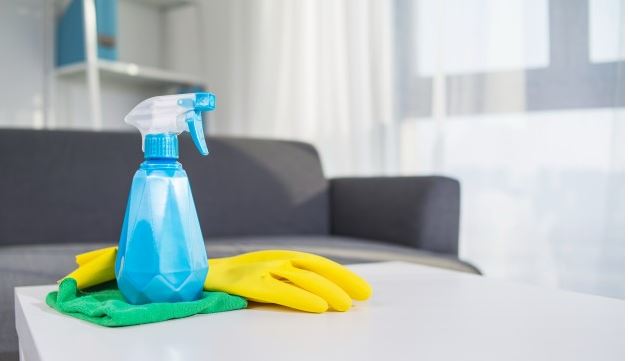 Have a professional carpet cleaner come and clean your carpets for you. Don't walk on them so as to maintain the perfect stripe. If you do walk on them, stripe them before the showing.
Make the yard, driveway and pathways sparkle with salt (in the winter) and pile that snow up into perfect cones along the sides of the driveway. Add your first note for the buyers: "Careful, icy". If it's summer, get weeding, feeding, and have the sprinklers on. Stripe your lawn after cutting.
Worried your home hasn't sold yet? Convert your nervous energy into productivity by learning about staging on Pinterest and HGTV. This is your excuse to buy rugs, scented candles, and mirrors.
3) 100% Maintained
If you're still reading this blog, I guarantee you have a well-maintained home.
A pre-inspection is not optional for the "Type-A" seller. Walk around with the inspector to learn more about home maintenance and how to fix the issues that arise. Go through the report, fixing all the little things. If anything serious comes up, get advice from your friendly A-Team listing agent before making any important decisions about it.
I am personally a little obsessed with the upkeep of a home...
Maybe it's because I am tasked with the home maintenance in my personal life, or maybe it's because home maintenance has such a large impact on home values over time. Either way, I strongly believe that of all the topics of this blog, this is the most important piece.
It is abundantly obvious when someone has looked after their home. The evidence is everywhere. It's so cool, too because in my experience, the correlation between homes that appear to be looked after and those that turn out later (post-inspection) to actually be looked after is almost one to one.
4) Providing Additional Due Diligence Materials
The idea of this section is to give buyers as much good info as possible to save them time and energy. You're saying "work with me, because I'm going to make this easy for you".
Most inspectors will come back and reprint you a (hopefully blank) inspection report once you have fixed up the issues from the pre-inspection. That is the report to leave on the kitchen table (print a few and invite the buyers to take it with them). Note: Don't make the mistake of leaving the old one out, in case you inadvertently alarm buyers with unnecessary disclosures about issues that no longer exist.
Unless your energy bills are crazy high, print them off (even prepare a spreadsheet and charts). Annotate with how many people lived in the home at the different times. These can be handouts.
A feature-list is a critical piece, especially if you have a high-end home. List all the features and even specifications. Do you have plans, or other info from the builder that you can provide?
Have all your appliance manuals out. Even the manual for the electric blinds.
Have all your condo documents out.
If you have a real property report (RPR) and a letter of Municipal Compliance, pop it on the table. These are rare things these days in Fort Mac!
How about placing a list of "reasons you'll love this home" on the table, too, as a takeaway? Hand-written of course. Instead of listing features (done, above) make it about the lifestyle these guys are buying into. E.g. drinking coffee while watching the sunrise over the Clearwater River from the veranda.
OMG, There are Three Showings Today!
Check out our post that describes optimal steps to take the
day of a showing
, and do everything on the list. For each showing.
What's The Point?
Well, to be honest, for most properties and for most potential buyers, doing these things is unlikely to make a sale happen on its own (there are oodles of other important factors to go through with you face-to-face). But it will swing the odds in your favour a bit, and…
a) For some houses, this stuff is key
b) Some potential buyers, this stuff is key
Let's think some more about "a". What if your house has a
PWF foundation
, or is an older mobile, or is on a busy road, or has
two bedrooms
upstairs? It's a fact that some homes are harder to sell than others because these factors concern nervous buyers. Anything you can do to give the buyer confidence in the product (and its caretaker) will make a world of difference.
What about "b"? Well, you aren't the only person like you in the world (there are thousands of us here in Fort McMurray: electricians, instrumentation techs, accountants, bookkeepers, engineers, scientists, cleaners, you name it). Sometimes we start out like this and sometimes our careers make us like this. The truth is, lots of other people also get enormous satisfaction from witnessing perfection. These people will LOVE your home.
Hit Me With The Real Talk
There's a huge caveat: If you achieve this list and more, your home may still not sell immediately, due to some other factor. And you may worry:
"Maybe it's price?" - You "Is it the home itself?" - Your Spouse
We're good, but we're not magicians. You and your A-Team listing agent hold incredible, powerful levers, but nobody can be in full control of everything all the time. By building a deep, trusting, almost familial relationship with one of our dedicated listing specialists, you will maximize the chances of a quick, stress-free sale. But…
Ultimately, time can be a key factor, even once all the other pieces of the puzzle are in place.
As someone who loves perfection and detail, you will probably be really good at everything on this list.
But you might suck at being patient. :/
Selling with us is usually fairly stress-free, but the hardest virtue of all for people like you and I is patience. And patience is often required to maximize the price in a balanced market. However, if and when you worry, or feel antsy, please reach out to your A-Team agent, who will be able to help you through it.
Oh, and we have a LOT of blogs for you to read in the meantime!